Drell
Reptilian aliens who are stealthy, attractive and have photographic memory.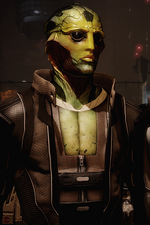 RACIAL TRAITS

Average Height: 5'6" - 5'9"

Average Weight: 150-185 lb.

Ability Scores: +2 Dexterity or Strength, +2 Charisma or Wisdom

Size: Medium

Speed: 6 squares

Vision: Normal

Languages: Common, choice of one other (usually Hanar).

Skill Bonuses: +2 Stealth, +2 Bluff

Nimble Guard: You gain a +2 racial bonus to AC against opportunity attacks.

Fearless: You gain a +5 racial bonus to saving throws against fear.


Eidetic Memory: You can use the eidetic memory as an encounter power.

Eidetic Memory Drell Racial Power

Your photographic memory makes overcoming new yet similar challenges easier.

Encounter • Racial

Immediate Interrupt Personal

Effect: Whenever you have to make a knowledge related check (i.e. identifying a monster, recalling a piece of lore, etc.) you may roll again and choose the highest roll for the check.




The drell are a reptile-like race that were rescued from their dying homeworld by the hanar following first contact between the two. Since then, the drell have remained loyal to the hanar for their camaraderie and have fit comfortably into galactic civilization.





Play a drell if you want . . .

• to be a stealthy hero or assassin

• to be good at sweet talking or bluffing your way through encounters

• to be a member of a race that favours infiltrator, soldier and vanguard.




Drell are omnivorous reptile-like humanoids with an average lifespan of 85 galactic standard years. Drell appearance is very similar to asari and humans, but their muscle tissue is slightly denser, giving them a wiry strength. Many of their more reptilian features are concealed, however one unique characteristic is the hyoid bone in their throats, which allows them to inflate their throats and produce vocal sounds outside of the human range. They also have two sets of eyelids, like crocodiles. Drell possess the ability to shed tears.

Because the drell ancestors emerged from arid, rocky deserts, the humid, ocean-covered hanar homeworld of Kahje proved tolerable only when the drell stayed inside a climate-controlled dome city. The leading cause of death for drell on Kahje is Kepral's Syndrome, caused by cumulative long-term exposure to a humid climate. This syndrome erodes the ability of drell lungs to take in oxygen, and eventually spreads out to other organs. It is noncommunicable, and there is currently no known cure, though leading hanar scientific authorities are working on creating a genetic adaptation.

The drell possess eidetic memory, an adaptation to a world where they must remember the location of every necessary resource (vegetation, drinkable water and prey migration paths) across vast distances. The memories are so strong that an external stimulus can trigger a powerful memory recall. These recalls are so vivid and detailed that some drell may mistake it for reality. Thane Krios, for example, remembers every assassination he has ever performed and can describe them in flawless detail, and says he prefers to spend a lonely night with the perfect memory of another. This process can be involuntary.




Playing a Drell

Drell Characteristics: Attractive, dedicated, devoted, fearless, loyal, religious, stealthy, poetic, spiritual.




Male Names: Thane, Feron, Kolyat, Heron.




Female Names: Irikah





Drell Adventurers

Three sample drell adventurers are described below.

Feron is a skilled infiltrator who works freelance for anyone who can pay his price. He specializes in ferreting out secrets, hacking computer systems and bluffing his way through tough situations. To his friends he's as loyal as they come however and there isn't anything he wouldn't do to help them out.

Kolyat is soldier working for the Illuminated Primacy of the hanar. Since his hanar employers saved his race, Kolyat works to honour the Compact, providing his body as a tool to protect the hanar race. He has fought in numerous battles to protect hanar interests and their religious devotion. To friends, Kolyat is a dedicated and religious warrior who can be trusted to get the job done.

Heron is a vanguard who developed his biotic powers while in the womb of his mother. His family gave him to the hanar as part of the Compact and his training was paid for so that he could serve the Primacy. A master of biotics that control the battlefield, Heron is more than a match for adepts of other races.