Dungeons and Dragons: Plot Twist Cards

By Fredrick Wheeler

What are Plot Twist Cards?

Gamemastery has produced some very interesting rpg cards for players to integrate into the fantasy adventure game. It was produced for Pathfinder but can easily be applied to other systems. I have been using these cards with my players for a few months now. The whole ideas is to get the group sharing the storytelling experience, not just the dungeon master. The cards allow players to suggest new events or changes to an adventure during play. The game master then decides if they can weave the players suggestion into the existing story. It requires a game master who can improvise or is willing to learn how too. A rather radical idea, but one that I've found has helped my group bond toward a common goal. It's also allowed me to learn how to let go of the story creation process and say 'Yes' to my players.

There are pros and cons to all things and Plot Twist Cards are no exception.

(1) The players express feeling more involved in the adventure, because they have a way to affect more change in it.

(2) I'm always reminder by the player to hand out a card to each of them, because they like them so much.

(3) I've had some really cleaver, funny and creative suggestions provided by the group.

(4) I don't have to worry that the players don't like the adventure, because they can make changes to suit their desires.

(5) I've learn much more about improvised play as a GM.

(6) Players don't always get cards they can apply to the adventure for that session and feel it's a wasted option.

(7) Sometimes the player suggestions are outrageous and as the GM, I've had to say no or alter their suggestions from the cards.

(8) Players might only take the mechanical option provided on the cards and not try to affect the story.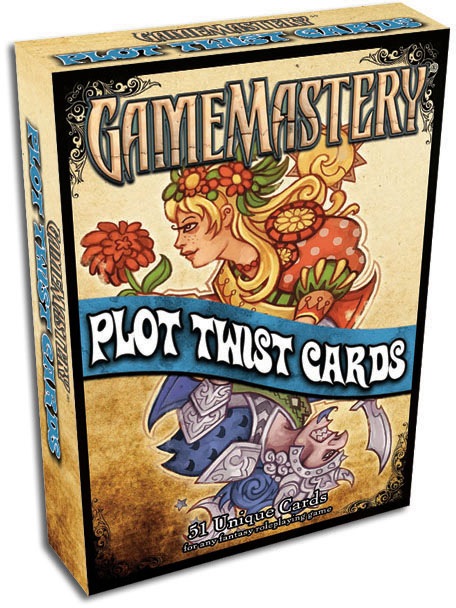 Example:




A player might request any of the following examples:

(1) Possibly the party has suffered a total party kill and asks to reset the adventure to an earlier point. The parties destrution was just a dream might be used. GM doesn't have to start a new adventure and the players don't need to create new characters.

(2) A player requests to have no combat encounters during an extended rest period. Gives the players a chance to gather resources if they have nothing left.

(3) The players have been stuck on a puzzle or missing a vital piece of information and asks the GM to allow their character to have a dream revealing a clue they might have missed. Helps steer the adventure back on track for GM and players.

(4) A player asks to learn something about their future fate. Or could suggest that their character has a premonition of capturing and training dragons for an army, to save the world from destruction.

There really aren't limits to the cards, just the players and GM's creative interperation.

It's a great way for everyone to help tell the story and enjoy surprising new events, even the GM.