Evendra Syltaer: Final Version
I've edited his background and description to better fit his new incarnation.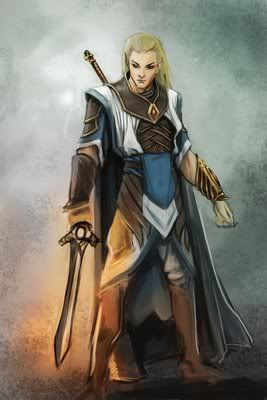 Evendra Syltaer is the latest in a long line of proud fey warriors, whose heritage boasts of more than two thousand years of dedicated service to the elfking of the Feywild kingdom Dandrael. Every generation of the Syltaer noble house has produced a warrior of extraordinary prowess and remarkable devotion to the royal lines. Evendra, however, does not seek this for himself. As a youth, he submitted to the training his family demanded, and complied with every responsibility placed upon him. Upon reaching his Age of Decision, however, he informed his parents that he would not be submitting himself for consideration to the order of Shiere Knights.

Instead, he set out into the world to live free, and to discover what life held for him. He is convinced that he is destined for a greatness unlike any of his family before him. His devotion to the ideals and practices of his people is a point of pride. He is grateful for his training in the ways of the Feyknights, who bring both magic and steel to bear against those who threaten their lord, entreating the very life-giving essence of the Feywild to heal and protect their charges. Evendra's talent with these arts is undeniable, and he believes that he cannot afford to let them go to waste, as they would if he remained at home. More than anything, however, Evendra simply wishes to live free; beholden to no one, and a master of his own destiny.

Evendra stands an even six feet tall and broad-shouldered for a high elf, garbed in finely-crafted elven steel chain armor, and bearing the sword of his family: Aurora's Edge. While he has turned his back on his family's traditional role, he nevertheless respects the rich and proud legacy that the blade represents. Like his fathers before him, Evendra has long, golden hair, and eyes of the purest white. Evendra's gentle manner and friendly smile are enough to win him friends in this unfamiliar world, while his sincerity, honesty, and unflinching devotion to honor are enough to keep them. While Evendra has only spent a few years outside the Feywild, his naivety is well hidden by his relaxed demeanor and boundless optimism.

When Evendra speaks, it is with care and sensitivity, but also with wit and insight. He knows how powerful words can be, and he seeks to use that power to put at ease the troubled hearts of everyone around him. Most of all, Evendra speaks and acts with sincerity, feeling as though he is carrying the weight of his people's reputation on his shoulders. Although he walks with pride as a Feyknight, he is prouder of his own, self-taught revisions to the orthodox Feyknight techniques.

He is slow to anger, and quick to forgive, but it is easier for him to forgive a personal offense than one against his friends. Probably due to his training as a guardian of the Dandraelian Elfking, his sense of protectiveness is stronger than in most folk. When he takes someone under his charge, he is willing, almost eager, to die protecting that person.

When he's bored, Evendra enjoys discussing arcane theory, and telling stories about the Feywild, and playing with his flute, a memento from his younger sister, Nayeri. Experts in the field of Arcane mechanics will find his contributions to the discussion inexperienced, yet insightful, but his music and his stories are both inspiring and heartfelt. His haunting tunes will often carry upon the wind in the evening, telling a sad tale of love and betrayal, or a joyous ballad of friendship and renewal.
Evendra Syltaer
Eladrin, Bard
Bardic Virtue - Virtue of Valor
Background: Eladrin Noble Birth; +2 Arcana
FINAL ABILITY SCORES
Str 10, Con 16, Dex 10, Int 14, Wis 12, Cha 16.
STARTING ABILITY SCORES (ie before racial mods)
Str 10, Con 16, Dex 8, Int 12, Wis 12, Cha 16.
AC: 17 Fort: 13 Reflex: 14 Will: 15
HP: 28 Surges: 9 Surge Value: 7
TRAINED SKILLS
Arcana +11
Diplomacy +8
History +9
Insight +6
Nature +6
Perception +6 
UNTRAINED SKILLS
Acrobatics +0
Athletics +0
Bluff +4
Dungeoneering +2
Endurance +3
Heal +2
Intimidate +4
Religion +2
Stealth +0
Streetwise +4
FEATS
Level 1: Melee Training (CHA)
POWERS
Eladrin Racial Encounter Power: Fey Step
Bard at-will 1: Guiding Strike
Bard at-will 1: War Song Strike
Bard encounter 1: Shout of Triumph
Bard daily 1: Slayer's Song
ITEMS
Longsword
Light Shield
Chain Armor
Ritual Book
Flute
Standard Adventurer's Kit
20g in Residuum 
RITUALS
Traveler's Chant
Animal Messenger