Designing a dungeon level can sometimes be a daunting task when starting at a blank piece of graph paper and facing the looming deadline of game night.  Few of us are architects and designing sensible floor plans can be a challenge.  Randomly generated maps often have an layout illogic that strains credibility even in a world of dragons and warlocks.  Even once the dungeon is drawn up, stocking it with encounters still remains and there is the problem of back-designing the encounters to fit the map rather than serve the story or mood.
There is a method I sometimes use that I based on reading the design notes of the old 1e AD&D module "Slave Pits of the Undercity".  (I think it was that one.)  It was designed as a tournament module and they used a rough template for constructing them.  Despite it's age, it's well suited to 4e.
Rather than starting with a map and filling in the encounters later, the idea is to make list of all the possible encounters in a dungeon, and decide the minimum amount of encounters necessary to reach the final encounter.  Pick a simple theme for the encounters and pick some creatures from the Monster Manuals.  For example, let's pick a avian theme and populate a mountain top dungeon stocked with kenku, harpies, some griffon and human cultists who worship a giant iridescent pink egg nestled up at the mountain's peak. Follow the advice in the Encounter Mix section on page 104 of the DMG.  Throw in a few extra encounters for good measure; the players may not find all the encounters on your map.  Once I have my list, I'll sketch out a rough flow chart of encounter "nodes" and draw lines between the nodes that connect.  I'll make three or four possible paths connecting the nodes which may or may not share some of the same encounters.   This forms the rough basis for my map.
One advantage of creating an encounter list like this first is that it gives you a better grasp of the how much experience and other rewards the party will earn, both minimum and maximum.  If you have a goal of advancing the party to a certain level by the end of the adventure, it quickly becomes obvious if you need to add or buff up an encounter or two.
A sample list might look like this:
A: Warmup encounter with kenku, Level n-2
B: Ambush with kenku, Level n+1
C: Patrol of kenku, Level n-1
D: Trap/Hazard - Rockfall, Level n-1
E: Puzzle - Skill Challenge, Level n
F: NPC encounter - prisioners - Skill Challenge, Level n
G: Elite brute - Cave Bear - Level +2
H: Unguarded but hidden treasure, Level n
I: Main lair of Kenku, Level +1
J: Griffon pens and cultists,  Level n
K: Trap/Hazard - difficult climb up to mountain peak, Level n
L: Final encounter - Boss fight - cultists and harpies, Level +2
And the flow chart might look like this: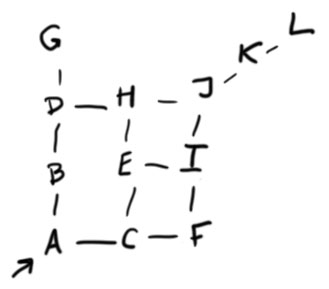 If I'm in a subterranean architecture sort of mood, I'll plot out the everything in detail on a piece of graph paper. On the much more common lazy days, I'll just make a map of the encounter areas and just jot down notes on the connecting spaces between the encounters like "Approximately 20 minutes of wandering through abandoned spiderweb filled passages and side rooms full of dank smells." or "Maze of twisty little passages, all alike."  Anything to jog your memory.  The important part here is to imagine a vivid internal vision of the dungeon that you are able to communicate to your players in lieu of an actual map.  As the DM, you are the players eyes, ears and interface to your shared world.  Be descriptive!  But if players really  insist on seeing a map, just make it up on the spot.  If they want to roll active perception checks or dally about let them and then move things along.  It's usually not too important.  Focus on mood and not mechanics between encounters.  No adventure takes place in these liminal spaces; save the dice and mapping for what comes next.
The players may not hit every encounter on the map so you'll probably do more work than necessary in this approach.  If you want to "cheat", plot out only the the encounters you want to use and maybe one backup encounter and secretly railroad the players from encounter A to B to C.  For example, no matter which door the players take after finishing encounter A have it lead to B.  If the players really want to go back and check out the other door from A you have your backup ready but you can also prevent this with one-way limited travel between encounter nodes via cave-ins, collapsing bridges, teleportation portals and the like.
If you have Adventure Tools, print up all the monster types you need for your encounters.  Use Dungeon Tiles for the encounter maps or find some encounter maps online and print them up.  Arm yourself with your master map/flowchart and sally forth!