[color=DimGray]Galaxy at War
Release Date - October 27th, 2009 (Tentative)
This is a little early, but I want to see what everyone else thinks we will see...
[color=DimGray]Heroes and villains clash in a galaxy far, far away...


Galaxy at War™ features 40 characters from across the Star Wars saga, with a particular focus on military figures from all eras, including unique characters with key roles in the Clone Wars and the Galactic Civil War.




The Star Wars Miniatures Game allows fans to stage their own epic battles with the most diverse collection of high quality, authentic figures available.
[b][color=DimGray]Forged in the Fires of Battle

From the Core to the Outer Rim Territories, the flames of war spread throughout known space. It is a dark time for the Republic, as clone troopers engage endless waves of battle droids, and the fate of the galaxy rests on the outcome...

The ultimate collection of military minded heroes and villains, including 16 new characters from The Clone Wars - 40 figures in all!
-New news!-
9/15/09 - 1st GaW Preview featuring Obi-Wan Kenobi, Jedi General and Commander Ahsoka appears on main page - Both are revealed as rare. Find it here!!!
8/28/09 - Clone Wars "Customs" show up on a notorious auction website - Speculation agrees that the customs are in fact actual figures that will be included in GaW, those included are: Cad Bane, Nahdar Vebb, Asajj Ventress, Captain Argyus, Droid Commando, Hondo Ohnake and Obi Wan in Space Gear... Only time will tell...
8/14/09 - Captain Rex, 501st Commander and Asajj Ventress, Strike Leader revealed at GenCon. Also a clearer view of the boosters are found, revealing Cad Bane, Anakin Skywalker and General Worm Loathesome as figures in GaW.
8/1/09 - All 3 Boosters Revealed - Pictures of all three boosters are found in this months' issue of Previews! Thanks to Fett-87 for the find!
7/6/09 - New Release Date - WotC catalog places the release date for October 27th, and gives a little more description of the set.
4/23/09 - 1st Booster Revealed - The first view of a booster, featuring a new General Greivous, has been found. Check the thread down below for the pic or see it here.
4/12/09- Possible booster art has been spotted in the WotC fall catalog. To view it head over to SWMGamers.com or try here![/color]
________________________________________ ___________________________________
Distribution confirmation: 0/12 C 0/12 UC 4/8 R 0/8 VR
Galaxy at War
Seperatist
1. Asajj Ventress, Strike Leader - R
2. Battle Droid - C
3. Battle Droid Sergeant - UC
4. B3 Ultra Battle Droid - UC  
5. Captain Mar Tuuk - VR
6. Commando Droid - C
7. Commando Droid - C
8. Commando Droid Captain - UC
9. A4-Series Lab Droid - UC
10. General Grievous, Scourge of the Jedi - R
11. General Whorm Loathsoam - VR
12. IG-100 MagnaGuard - UC
13. IG-100 MagnaGuard Artillerist - UC
14. LR-57 Combat Droid - UC
15. Wat Tambor, Techno Union Foreman - VR
Republic 
16. Admiral Yularen - VR
17. ARF Trooper - C 
18. AT-TE Driver - C 
19. Captain Argyus - VR 
20. Clone Trooper Pilot - C 
21. Clone Trooper Sergeant - UC
22. Clone Trooper with Night Vision - C
23. Clone Trooper with Repeating Blaster - UC
24. Commander Ashoka - R  
25. Commander Cody - R
26. Captain Rex, 501st Commander - R
27. Elite Senate Guard - UC
28. 501st Clone Trooper - C
29.General Skywalker - R  
30. Jedi Master Kit Fisto - R
31. Nahdar Vebb - VR
32. Obi-Wan Kenobi, Jedi General - R
33. Senate Commando - C
Fringe
34. Aqualish Technician - C
35. Cad Bane - VR
36. Hondo Ohnaka - VR 
37. R7 Astromech Droid - UC
38. Rodian Trader - C
39. Treadwell Droid - UC
40. Weequay Pirate - C
* Uncertain of name, location and/or rareity
________________________________________ ___________________________________
Now this is all speculation since the set is at least 9 months away. It will probably include Republic, Seperatist, Rebels, and Empire, and if we are lucky we might see a few Mandalorians. We also don't know what is coming out in the sets prior to this that we can exclude from this set...
________________________________________ ___________________________________
**************************************** ***************************
Galaxy at War Previews:
GaW Preview 1 - Commander Ahsoka & Obi-Wan Kenobi, Jedi General
GaW Preview 2 - Hondo Ohnaka & Asajj Ventress, Strike Leader
Galaxy at War Related Links:
Possible GaW Booster Art @ SWMGamers.com
Galaxy at War Pictures: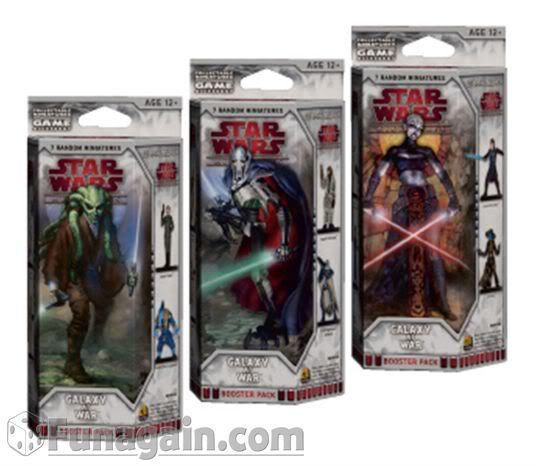 **************************************** ****************************