What is Five Color Control?
Five Color Control is a greedy control deck based off the powerful interaction between the Lorwyn Vivid Lands and Reflecting pool which enables it to play the most powerful spells in the format regardless of the casting cost. This deck has adapted the most of any in the current standard as it has been changing to suit different metagames since it's first appearance in PT: Hollywood - always playing with the newest, most powerful of Card Draw, Counterspells, and win conditions. Debates rage over which suite is correct concerning Counterspells and Creatures especially, but the decks all play similarly. By packing great survivability the Five Color player will inevitably make it to the late game and deliver a crushing blow by dropping either Cruel Ultimatum or a fatty and protecting it till it finishes their opponent off. Due to the overwhelming card advantage the deck builds up during the course of a game it is uncommon but not unheard of to actually kill an opponent with a simple Mulldrifter.
Card Choices?
Card Choices in this particular archetype are subject to a lot of debate as each player is building for a slightly different metagame and the risk of power vs consistency is not something we take lightly. Greedy players will try and stretch their manabase to the limits, and that is sometimes the correct decision, but some prefer consistency and thus each player has their own preferences concerning the following three major points of debate.
Counterspells
Negate vs Countersquall vs Remove Soul vs Broken Ambitions
Negate
can deal with Planeswalkers, opposing counterspells, disruption, and removal. In builds packing heavy board sweepers and targetted removal it is my personal choice in the secondary counterspell slot. I feel we have enough answers to deal with resolved creature spells (This school of thought has to deal with the consequences of an opponent resolving Reveillark) to want an answer to planeswalkers and additional counterspells in a control match.
Countersquall
fills the same role but nips them for two life in the process. The argument goes that our manabase is strong enough to support running the UB Negate to take advantage of the additional source of damage. The risk vs reward argument is often brought up in opposition of this idea as forcing UB in the first few turns cripples setting up a turn three non-Mulldrifter drop and cuts chances of us hitting Volcanic Fallout mana.
Remove Soul
is a simple creature counterspell. Stops Reveillark shenanigans right away for an efficient two mana. It leaves you a bit open against control matches where you will only have Cryptic Command to counter with but sometimes that can be all you need.
Broken Ambitions
is the counter of choice for many 5CC players as it is not limited by specific card types but instead of mana. We generally act on our opponents end of turn so leaving a ton of mana available isn't a problem as we can just wait until next turn if we need to counter something. The problem is in a counterwar it is a subpar spell in the late game, but it really shines in the early game. The library manipulation is another perk as it can nab some additional counters or threats from the opponent's library.
3-Drop Creatures
Finks vs Plumeveil vs Warmonk
Kitchen Finks
has the benefit of blocking twice and surviving board clearers (via Persist), an immediate impact on the board, and an elegant casting cost. The downside is that it will caps out at gaining you four life.
Plumeveil
is a combat trick that sticks around. Flash makes it appealing but the casting cost is a bit restricting in the early turns making it more of a turn 4 or 5 drop. It kills Cliques, Demigods, Figures, et cetera so it is not to be overlooked. It is the only option that does not gain us any life though, which is sometimes a problem.
Rhox War Monk
has a fat four toughness, lifelink, and a relatively easy casting cost. If you hit more than once you surpass Kitchen Finks in life-gain, but the trade off is this creature will not persist.
Finishers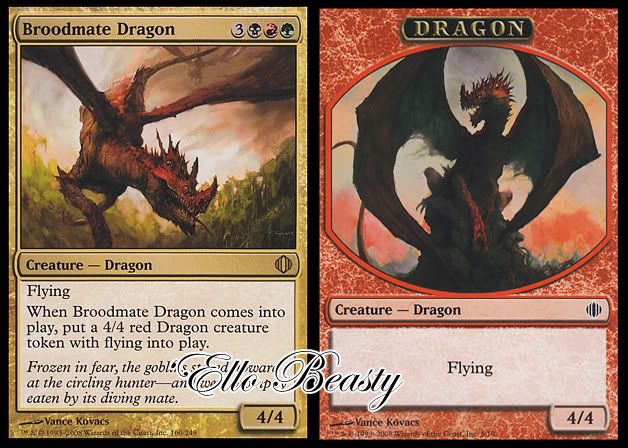 As 5color you always have the threat of dropping Cruel Ultimatum, but we usually run an additional two fatties to finish the game for us.
Cloudthresher vs Broodmate vs Ethersworn Adjucator
Cloudthresher
is our old star who had his 15minutes but has passed the baton to the next two candidates. His perks were flash, evoke to clear the board against Faeries, and a huge 7/7 body. His cost is extremely restrictive and many have dropped him as he is just not up to snuff and cutting him eases the manabase up so much it just isn't worth keeping him in.
Broodmate Dragon
is the current golden boy of 5color finishers as he is 8 power for six mana which is extremely easy to cast and has the added benefit of evasion and splitting up that 8 power between two bodies. Taking two removal spells to get rid of is an amazing attribute to have in any finisher, especially powerful when recurred.
Ethersworn Adjucator
is a new toy 5color picked up when the release of Conflux. Originally overlooked by many, pointed out by Avenged_sixfold, this creature offers us a respectable 4/4 body for five with the ability to act as removal and a block given you have the mana to pump into him. A potentially powerful tool, but perhaps too early to tell if he can surpass the double-dragons.
Wogatog wrote:

Mass Removal
Pyroclasm vs Volcanic Fallout vs Firespout vs Wrath of God
Sweepers are a key component of both early game survivability and building incremental card advantage on our way to the late game. Its recommended to play between 6-8 between your maindeck and sideboard.

Pyroclasm saw its time in the spotlight thanks to stopping Figure of Destiny on the 2nd turn, before it can hit 4/4, but it has since rotated out in favor of more powerful cards.

Volcanic Fallout is slightly more expensive and instant speed Pyroclasm cant keep the Figure from reaching 4/4, but its ability to sweep at the end-of-turn combined with the uncounterability against Fae are what have pushed it to become the primary cheap sweeper of 5cc.

Firespout generally doesnt see play anymore as it cant compete with the instant Volcanic Fallout, and the only relevant things it hits that the Fallout cant are Reveillark and Cloudgoat Ranger.

Wrath of God is is the big one that handles everything. It doesnt care about toughness, protection from red, or anything like that.

Spot Removal
Path to Exile vs Condemn vs Terror vs Plumeveil
Sometimes there is just a single creature that needs to be taken care of. While there is not an overall consensus on which are optimal, lists generally run from as few as 2 to as many as 6, though 3 or 4 seems to be the most common number.

Path to Exile is the new poster-boy of standard removal. It hits just about anything at instant speed and removes it from the game. The drawback is not to be overlooked, as it powers them into their heavy hitters (Reveillark and Siege-Gang Commander come to mind). Overall the consensus is that an unconditional removal spell for just one mana is worth the drawbacks.

Condemn serves a similar function as Path to Exile, but more conditional as it has to be played during their attack phase. It also prevents the target from going to the graveyard, but putting it on the bottom of the library isnt as good as removing it from the game entirely.

[b]Terror[b] is close to Path to Exile, but instead of giving them the free land it cant hit Fulminator Mage, Chameleon Colossus, Demigod of Revenge, Shambling Remains, etc. Unlike Condemn and Path to Exile, Terror lets it go straight to the graveyard for Reveillark and persist shenanigans.
[b]Sample Decklists
[/b]
sBlocked for convenience.
Show
Patrick Chapin wrote:

Creatures
2 Broodmate Dragon
2 Cloudthresher
4 Mulldrifter
3 Plumeveil

Other Spells
3 Broken Ambitions
4 Cryptic Command
4 Esper Charm
1 Courier's Capsule
2 Path To Exile
1 Terror
3 Volcanic Fallout
1 Ajani Vengeant
2 Cruel Ultimatum
2 Wrath Of God

Lands
3 Island
2 Cascade Bluffs
2 Flooded Grove
2 Mystic Gate
4 Reflecting Pool
1 Sunken Ruins
2 Vivid Crag
4 Vivid Creek
2 Vivid Marsh
4 Vivid Meadow
Spike_Tribop wrote:

4x Mulldrifter
4x Kitchen Finks
2x Broodmate Dragon
-
4x Cryptic Command
4x Esper Charm
4x Path to Exile
4x Broken Ambitions
3x Volcanic Fallout
3x Wrath of God
2x Cruel Ultimatum
-
4x Reflecting Pool
4x Vivid Creek
3x Vivid Meadow
3x Vivid Marsh
2x Jungle Shrine
3x Cascade Bluff
3x Sunken Ruin
2x Mystic Gate
2x Island
Gabriel Nassif wrote:

//Creatures
3 Broodmate Dragon
4 Mulldrifter
3 Plumeveil
3 Wall of Reverence
//Other Spells
4 Broken Ambitions
1 Celestial Purge
2 Cruel Ultimatum
4 Cryptic Command
4 Esper Charm
1 Pithing Needle
1 Terror
4 Volcanic Fallout
//Lands
2 Cascade Bluffs
2 Exotic Orchard
3 Island
1 Mystic Gate
4 Reflecting Pool
4 Sunken Ruins
2 Vivid Crag
4 Vivid Creek
3 Vivid Marsh
2 Vivid Meadow
avenged_sixfold wrote:

// Lands
4 [LRW] Vivid Creek
4 [SHM] Reflecting Pool
2 [SHM] Mystic Gate
2 [SHM] Sunken Ruins
3 [10E] Island (3)
2 [LRW] Vivid Marsh
2 [LRW] Vivid Meadow
1 [IA] Sulfurous Springs
2 [ALA] Jungle Shrine
2 [EVE] Cascade Bluffs
2 [ALA] Arcane Sanctum

// Creatures
4 [LRW] Mulldrifter
4 [SHM] Kitchen Finks
1 [ALA] Ajani Vengeant
1 [LRW] Liliana Vess
2 [CON] Ethersworn Adjudicator

// Spells
2 [8E] Wrath of God
4 [LRW] Cryptic Command
2 [ALA] Cruel Ultimatum
4 [ALA] Esper Charm
3 [LRW] Broken Ambitions
3 [CON] Volcanic Fallout
1 [CON] Banefire
3 [CON] Path to Exile
How to Build a Manabase
The shell of the manabase is as follows:
4 Reflecting Pool
4 Vivid Creek
2 Mystic Gate
2 Island
From there one generally wants to run about 10 to 12 Vivid Lands, playing more than that leaves you with too many CIPT lands.
Additionally, the Shardlands have had a slight impact making things easier for us as we try and set up ~3 different sets of mana turn three.
UWB, UWG, and 1RR, and still be able to produce 1UUU and 2WW the following turn. Jungle Shrine is the most popular of them at the moment.
Usually 6 to 8 filters is enough to consistently get your manabase up and running without getting three filter mulligan hands.
Exotic Orchard is a new option from Conflux that is
entirely
metagame dependent. Currently the metagame is heavily influenced by Boat Brew and Faeries and as such Exotic Orchard is usually either a
Plateau
or
Underground Sea
which, while a bit unreliable in the first three turns makes it a solid turn four land drop - allowing Fallout, Wrath, and Cryptic - all being key spells.
This is a work under construction and will be updated as new developments unfold.