I am slowly reworking the maps from The Temple of Elemental Evil (AD&D 1st Ed, 1985), into high-resolution maps. I'm using Dunjinni and Photoshop to create these for use with d20pro virtual tabletop software. I will update this as I (slowly) add more maps. I hope someone finds these useful. You can find this and other out of print modules on the web for cheap.
This thread lists many vendors
.
My main map page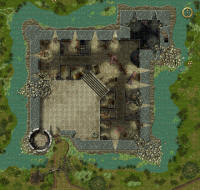 Update:
Waterside Hostel Map added Jan 3rd, 2007
Update:
4 maps for Inn of the Welcome Wench added Feb 11th, 2007
[url=http://www.educatedgamer.net/toee_hommlet.htm]The Inn of the Welcome Wench
[/url]
Update:
2nd floor for Inn of the Welcome Wench added Feb 14th, 2007
Update:
FIRST DUNGEON LEVEL IS DONE! - March 22, 2007
OMG I am finally done with the first massive dungeon level of the Temple of Elemental Evil. I've been working on this abomination for waaaaay too long. Anyways, here is the link:
UPDATE:
Temple of Elemental Evil in 3D - Added April 3, 2007
I created a 3D model of the Temple of Elemental Evil and surrounding courtyard, just to give my players a sense of scale, and to give me an excuse to learn Google SketchUp. This took about 3.5 hours to create, and was created from a 2-D floorplan (included with the model). See my blog post for more info, and please let me know what you think!
[url=http://educatedgamer.net/blog/archives/61]
[/url]
UPDATE:
Nulb isometric Map - Added April 9, 2007
Isometric map of Nulb, which is a sad collection of hovels in a place that is always overcast and dark. "A wretched hive of scum and villainy," you might call it. Anyways, here it is. You can get the high-res version (with and without grids) at my website. Just click on the image.
UPDATE:
MORE MAPS!! - Added May 4th, 2007
MORE MAPS!!
A friend of mine from the Dundjinni forums, Steve Gadreau, has made several random encounter and wilderness maps for my Temple of Elemental Evil project. His work is, frankly, stunning - you must see it. Click the images below for the link.
Update:
Broken Tower (Temple Grounds) - Added May 24th, 2007