Some of you may remember the best class in 3.5; the jester is found in the Dragon Compendium Volume I.
I'm attempting to bring him over to 4.0 as it is the most fun class to play by far. This is what I have so far
My goal for this class is that he basically pisses off the enemies (marking them with rage) but he doesn't have the Hit points or Armor of the fighter so I'm thinking of some sort of battle field control as well. A level 1 encounter ability I was thinking of is.
Vicious Lampoon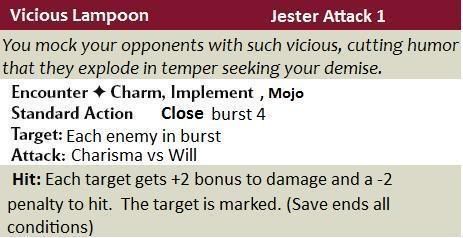 This would give enemies a -4 to hit everyone but the jester. I dunno seems like a good battle field control if the jester can run fast enough, not to mention how much fun it would be for the DM to describe the enemies attempts to chase the jester.
The Art of War, by Bozo the Clown
Your bumbling idocy succeeds in enraging your oponent
attack: Dexterity vs AC
hit: 2[W] + Dexterity modifier. The target is marked until the Jester is no longer conscious or until a new mark is placed on the target.
Color Spray
Attack: Charm vs Reflex
Close
blast 2
Hit: Target is blinded (save ends) and dazed. Once the target saves against being blinded he is dazed (save ends).