A friendly welcome to you all!
Together Eldritch_Lord and I, Leichenreiter, have created a program that will make life easier on Dungeon Masters and players who want to create their own homebrew material for 4E.
Our program, the DM's Toolkit, is essentially a formatting tool that guides you through the creation process of a variety of things for 4th Edition D&D.
It allows you to format material either for your own use or for posting on forums, with a special format option for the official Wizards forum. You can save all of your material for sharing with friends, create power cards, and do other miscellaneous tasks to make creation and sharing of homebrew material easier.
As of now, the Toolkit includes fully-functional Creators for the following things:
Races

Classes

Powers

Paragon Paths

Epic Destinies

We are currently working on Creators for the following for later releases:
Feats

Rituals

Magic Items (incl. Artifacts)

Monsters

We first planned to release the Toolkit on 6th June, concurrent with the release of 4th Edition itself, but it was postponed by circumstances beyond our control that have since been resolved. We will release the Toolkit 6th of September, offering it free of charge to all DMs and players who would like to make use of this Toolkit. A big thanks to all of those who alpha and beta tested the Toolkit since then; they've helped us improve the Toolkit a lot and suggested a lot of features, and the Toolkit is better for it.
We intend to eventually offer the Toolkit for the three dominant platforms: Windows, Linux, and Mac. Unfortunately, at present Version 1.0 of the Toolkit will not be available for Mac,
but as soon as we can find a good executable creator for Mac, a Mac version will be available with a later release.
The following are a batch of screenshots taken with the pre-release version of the Toolkit. Enjoy!
Screenshots:
Show
Main Menu (Tome-Style / Whimsical-Style)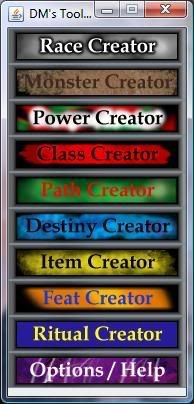 Options Panel:
Download
DM Toolkit Project Website and Download
(On a side note, a big thank-you goes out to Excelsior LLC, who generously provided the Windows and Linux executable creators to support our project; we couldn't have done it without them. You can check them out
here
if you want to do something similar.)