Swords and Sorcery
A Swordmage Manual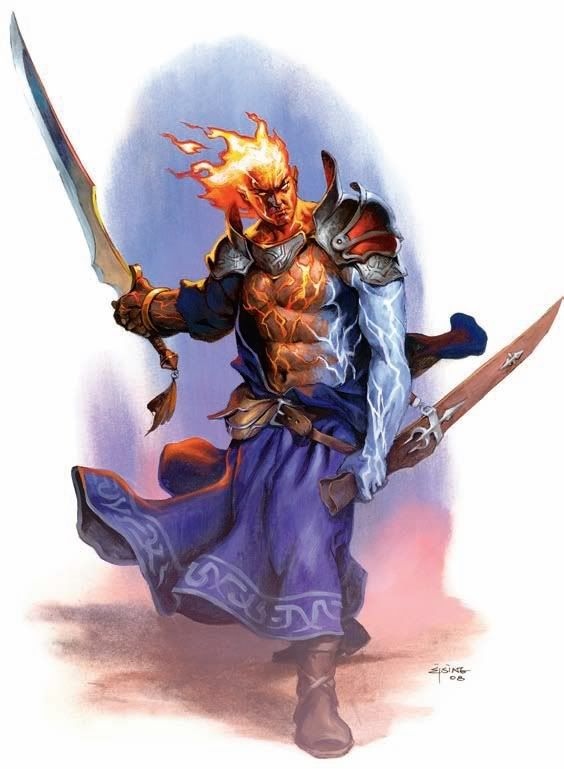 The Warrior-Wizard is a well-known fantasy archetype, and a fairly popular one at that. After all, if swords are awesome, and magic is awesome, then swords + magic must be something beyond awesome. A Swordmage is one who slings spells, cuts down swathes of enemies, and looks bad
doing it. Hopefully, the information contained within will help you create your own Swordmage.
Table of Contents
01.)
Introduction (Complete)
02.)
Class Features (Complete)
03.)
Abilities and Races (Complete)
04.)
Heroic Tier Powers (Complete)
05.)
Paragon Tier Powers (Complete)
06.)
Epic Tier Powers (Complete)
07.)
Paragon Paths and Epic Destinies (In-Progress)
08.)
Skills (Complete)
09.)
Feats (Complete)
10.)
Multiclassing (Incomplete)
11.)
Weapons and Armor (In-Progress)
12.)
Sample Swordmages (Incomplete)
Color-Coding?
As is the style with guides on this board, I will be using Dictuum Mortuum's color-coding system for rating options, as it allows you to see at a glance how useful the option might be to you.
Sky Blue
choices are excellent options. Any Swordmage can make use of these, and they should always be considered.
Blue
choices are good options. A Swordmage who uses one of these won't regret it.
Black
choices are solid options. Maybe not the best choice there is, but it's not an outright bad choice either.
Purple
choices are limited options. These choices might work for some swordmages, but they're generally not very good.
Red
choices are bad options. To use board lingo, they are "traps," and should generally be avoided.
Other Swordmage Threads
If you want to know more about Swordmages, you might want to look up one of these threads:
Swordmage Optimization Brainstorming
Special Thanks
Hdier
came up with the wonderful idea of providing links to the
D&D Compendium
, so that Insiders can get a better look at individual powers, and has been providing the links for me. It will take a while to get all those links up, so until then, be patient (just like with the rest of this guide, actually).
Merchant_of_Shadows
evaluated the items in the Adventurer's Vault.
Herid_Fel
evaluated Armor Choices