Welcome back to My Gamma World. Check out my blog for the rest of the series, where my particular take on this campaign setting can be found. 
As most of those reading this know, I want to make sure players can make recognizable human characters in Gamma World. If you want to be a crazy mutant Seismic Yeti, bully for you. But maybe you just want to be this guy: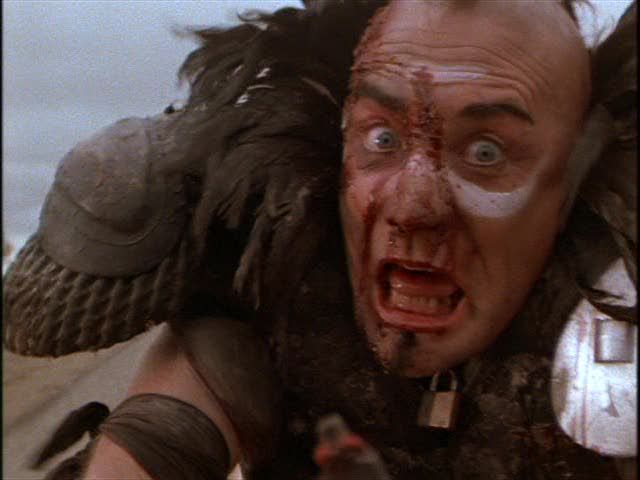 If he had a name, I can't remember it, but holy cow was he scary.
Anyway, My GW needs a rule for characters who aren't mutants. And that means they don't have Alpha Mutations. Since Alpha Mutations are encounter powers, the logical solution seems to be Omega Tech, which also acts like an encounter power. My solution tries to keep it as simple as possible.
Pure Strain Humans
 If you wish to play a Pure Strain Human (or PSH), you must select your origins from those which have no power source, such as the Engineered Human, Young, Survivor, or Old. In addition, the following rules apply to you:
You do not draw Alpha Mutation cards. Alpha Flux does not apply to you.
You gain the "Fresh Batteries" power. 
Fresh Batteries • Pure Strain Human Novice
Encounter
Minor Action
Effect: Select one of your Omega Tech which has already been tapped. Ready that Omega Tech again.
At 4th level you may use this power twice per encounter. At 8th level, you may use it three times per encounter.
The second thing I have been working on is a way to get players more choices when it comes to Utility powers. Utility powers are, to me, the most interesting part of the character. Everyone in GW has a few different attack powers. We all do damage. But it is in the Utility powers that characters really find their unique role. What do you contribute to the group?
My addition to Gamma World is based on the idea of Skill Powers, which is one of my favorite additions to D&D 4E. The idea is to have a list of Utility powers which you can choose from instead of -- not in addition to -- your standard utilities. Gamma World heroes get utility powers at 3rd and 7th level. Normally their only choice is which to take first: their primary origin utility or their secondary one? By 7th level you have both.
I haven't made up any of the actual Utility powers yet. I know, I know. But I have to start somewhere. So first, some Occupations. I use Occupations to qualify for the new utility powers because GW doesn't have the idea of "trained skills." I can't make a power with the requirement: Trained in Athletics" because training does not exist. I'll make them keyed to Occupation instead.
Occupations
You can choose to give your character an occupation. This occupation will give you a bonus to a specific skill and will give you access to utility powers which you might select instead of the utility powers given to you by your origin.
If you select an occupation for your character, the following rules apply to you:
Do not roll on the skill bonus table. Your occupation bonus replaces this roll.
At 3rd and 7th level, when you select a utility power, you can choose from the powers listed for your occupation as well as from the powers listed for your origins. You still select only one utility power at 3rd level and another one at 7th level.
Drifter
Gamma Terra is full of drifters, men and women with no home and only the belongings they can carry on their back, their mule, or their wagon. Drifters are seldom welcome by communities; they are unknown quantities who consume vital food and medicine. This appraisal is more right than wrong: drifters are a cagey, secretive lot who aren't above theft or deception when it comes to staying alive. A drifter with vital skills, however, can often find at least a temporary home for himself before boredom or his own self-destructive nature forces him to hit the road once again.
Skill Bonus: Stealth
Driver
It's not hard to find a vehicle in Gamma Terra, but it is very hard to find one that runs. With hard work and a conversion to ethanol fuel, a few communities have been able to get some cars and trucks moving again. Other vehicles serve as a home for nomadic bike and car gangs, who can stay in a small town for weeks extorting fuel and food before moving on.
Skill Bonus: Acrobatics
Healer
 Being a doctor isn't what it used to be: a physician in Gamma Terra has to learn to make do with only those few medicines that can be made, scavenged, or found in the wild. A healer is as much psychiatrist and counselor as he is doctor or nurse. Because they collect all written records for a hint of medical knowledge, healers can often be a source of information for facts about the old world.
Skill Bonus: Science
Homesteader
Most residents of Gamma Terra don't try to be heroes; they just try to stay alive. The homesteader is a farmer or craftsman, often married and hoping for a kid or two to survive the pox. Homesteaders are usually taught to get out of the way when disaster strikes, but they have a strong sense of community and know the area well.
Skill Bonus: Insight
Hunter
Animal populations were devastated when the old world ended, with many species dying out entirely. But without man to hunt them, those who survived the long winters, the disease, and starvation have begun to make a comeback, and many new strains of dangerous creatures have been born on Gamma Terra. Every community will have men and women who hunt animals for food, using their fur and other parts for clothing or tools. Hunters are among those most likely to have skill with firearms, though few would be so reckless as to waste a bullet on an animal when an arrow will do.
Skill Bonus: Nature
Mechanic
Someone has to keep the generators running, the plumbing working, and the stills in operation. The Gamma Terra mechanic is one part salvage expert and one part jury-rigger, trying to keep old machines in operation as well as cobble together new ones that can help the community at large. Because he is the ultimate authority when it comes to vehicles and firearms, he may know how to use them as well as fix them, and he spends any free time scrounging for old manuals and books that might shed light on a particular technical problem.
Skill Bonus: Mechanics
Scavenger
The scavenger is a person who makes a living by investigating the ruins of the old world, typically by venturing into the fringes of a dead city or large town and looting it of anything he can find. The scavenger avoids other people, usually working alone and fleeing from danger. Nonetheless, he can have a surprising amount of knowledge about old world machines and history, lore picked up in his many forays into the city interior.
Skill Bonus: Perception
Slave
Slavery in Gamma Terra tends to be one of two types: either the slave was seized as a conscript, or he wandered into a community that put him to work in exchange for food and housing. In the first case, the slave probably began as a healthy adult. A strong back and a willingness to obey orders is a plus in this brutal life. Some conscripts try to escape but only a handful ever do so; their guards are usually well-armed and sometimes former conscripts themselves, conditioned through cruelty to feel no pity or sympathy for those they guard. In the other case, however, an exile or wanderer may have attempted to join a community. With no skills to contribute, the newcomer is just another mouth to feed and while compassion dictates taking the pilgrim in, necessity requires him to work for his living, often in a state of menial labor akin to slavery. After a time, such slaves sometimes earn a place in their community, but others wander on or suffer one of the accidents all too common in a life of hard work.
Skill Bonus: Athletics
Survivalist
The survivalist was a man or woman of the World That Was who was convinced the end of civilization was coming and meant to be prepared for it. Often thought a paranoid gun nut, the survivalist probably wasn't happy to be proven right. He entered the new world with a stockpile of guns, food, fuel and other equipment, though little of this has survived the decades. Nonetheless, he remembers the way the world was and he may have an idea of how the new world should be.
Skill Bonus: Conspiracy
Teacher
If there is to be any hope for civilization the young must be educated, taught the mistakes of the old world and the hopes of Gamma Terra, what went wrong and what went right, what is truth and what is legend. That role falls to the teachers. Teachers work with young people of all ages and have good social skills as well as some knowledge of the way things used to be. They tend to stay in one community where they gather respect and admiration.
Skill Bonus: Interaction
Warrior
This occupation represents those who have been using their fists for most of their lives. Gang members who hunt the roads and cities, taking what they want from those too weak to resist, are warriors, but a traveling youth who sells his fighting skills for food and shelter might also have this occupation.
Skill Bonus: Athletics