That Escalated Quickly: an Elementalist critfisher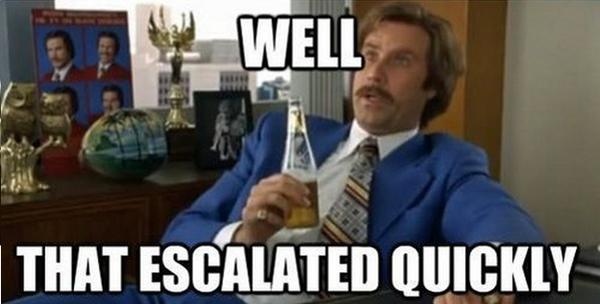 A Sorcerer (Air Elementalist)/Avenger/Mithral Arm/Sage of Ages
Let's get it out of the way: I built this solely because I got the meme stuck in my head. But as it turns out, you can actually have a some fun by critfishing with an Elementalist. Feast your eyes on this:


What does it do?
Well, it tries to generate as many crits as possible with the awesome combo of Sorcerous Blade Channeling + Two-Weapon Opening. Here's how that works:
- You make a melee attack with Elemental Bolt
- You Escalate it to attack a second target, anywhere within 5 squares of you
- You doubleroll (OoE) or reroll (Twisting Fortune), hoping to crit on a 19
- When you do, you make an off-hand attack with Ensorcelled Blade against the same target
This sequence comes online at level 11. At 12 you get your OoE. At 21 you get muchos more minor action attacks to raise your crit chances. But it's playable from level 1.
Yeah, but what else does it do?
Lots of nifty stuff! Which I hid in an sblock for your convenience.
All this talk of critting, but what's the damage like?
I threw as much damage boosters together as I could find, so it's not bad. And with a minor action attack (three in epic), Symbol of Victory and Temporal Armor you have a nova round every fight.
Are there any other reasons for playing this?
Well, as a dragonborn with high CON you're pretty resilient. And if you don't feel like playing like a Daggermaster, you can also have a lot of fun with Static Charge to blow one enemy up if he's clustered together with his friends.
And now, the ever-so-useful FAQ