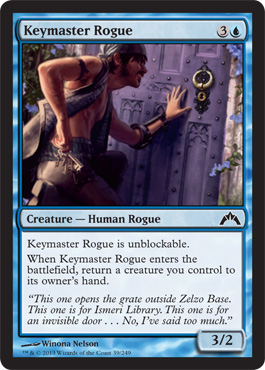 Keymaster Rogue
Creature - Human Rogue
(Common)
Keymaster Rogue is unblockable.
When Keymaster Rogue enters the battlefield, return a creature you control to its ownder's hand.
3/2
"This one opens the grate outside Zelzo Base. This one is for Ismeri Library. This one is for an invisible door... No, I've said too much."
That was the last blue ICD. Looks like a gigolo to me.