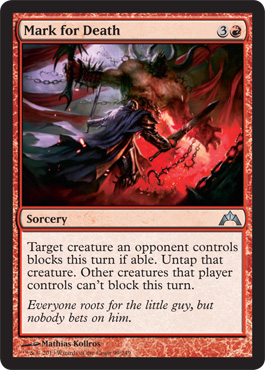 Mark for Death
Sorcery  (U)
Target creature an opponent controls blocks
this turn if able.  Untap that creature.  Other
creatures that player controls can't block this turn.
Everyone roots for the little guy, but nobody bets on him. 

------


Nasty piece of work here, though it won't allow you to take out Avacyn's Pilgrim or any of the REALLY irritating tappables since they'll just re-tap.  Does make for a free swing at the face though.
Best flavor text in the set.