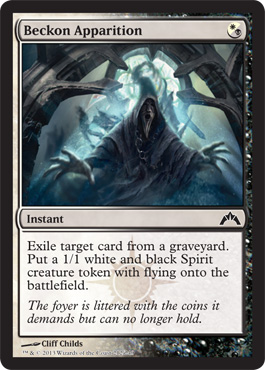 Beckon Apparition - :wb:
Instant
Exile target card from a graveyard. Put a 1/1 white and black Spirit creature token with flying onto the battlefield.
The foyer is littered with the coins it demands but can no longer hold.
--------------------------
Making an ICD for this because I've always liked this card, and it's still quite relevant with
Unburial Rites
around. Also, could be one of the few Orzhov cards that will see Standard play (in the sideboard, but still) *cough*. A little bit too similar to
Vile Rebirth
? Maybe. But also still nice to have!
The token associated with it: