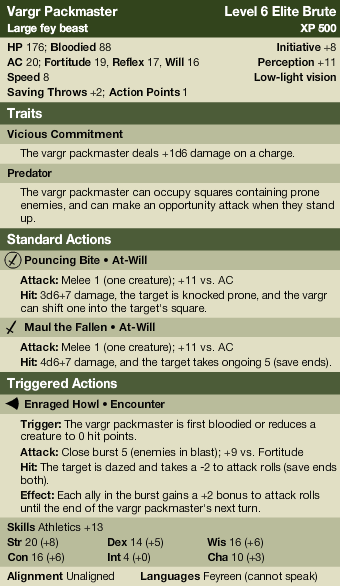 In an upcoming session, my players are being hounded by elven-trained hunting hounds - fey worgs, or vargr, as we've dubbed them in my campaign.  Elves in my setting are significantly more callous than in most - they're not native to the prime at all, and find mortals, at best, amusing playthings. In this case, they view the party as game animals, and have let loose their animals to chase the group.
In preparing for the encounter, I was surprised at how few worgs - what I'd planned to use - there were in 4E. Definitely not enough disparate types for a fight that I was expecting to only include the threatening beasts. As such, I felt obligated to put together a few of my own.  I'm pretty comfortable with the numbers I've got, but I wanted to submit them for thoughts in case I've missed something obvious and horrible.
As an aside, I know that the defenses are all slightly off from normal for their levels - I generally adjust defenses up and down by 1-2 points on monsters to make strengths or weaknesses more obvious across a single type, aiming for the same average (but some that become better choices than others).
Vargr Packmaster
The leader of the group, the packmaster is generally the largest, most vicious vargr of the lot, and I reflected that in having it be a brute that does significant amounts of damage and tends to lock down a single target at a time.
Vargr Second
The seconds are the, well, seconds to the 'ruling' packmaster. They serve as slightly less-dangerous enforcers and pack leaders. I knew I wanted some soldiers in the group, and the seconds were a great fit for it - I built them to isolate and tear into a single target at a time, which is a theme I've been wanting to push for the vargr. I am, however, a little concerned about the mechanics on this fellow.  He's a modified Kank Soldier (Dark Sun), so the numbers match up, but I dropped the venomous attack for a way to keep people away from his locked-down target.
Vargr Harrier
I couldn't come up with a great way to extend the "isolate and tear apart" theme to the skirmishing smaller vargr, but I think their effect will work really well for hit-and-run tactics.  Dart in, bleed the target, and then stay away until they need to bleed again. Their trait is pretty directly a monster version of the Cunning Stalker feat.
Closing thoughts: 
I appreciate any comments and feedback you've got on these things. I hope that they're playable and interesting, and as important, thematic.  I'm running the game Tuesday night, so I'll let you know how things go sometime after that.  Thanks in advance!