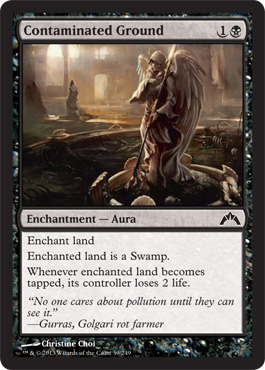 Contaminated Ground
:B:
Enchantment-Aura (common)
Enchant Land
Enchanted Land is a Swamp
Whenever enchanted land becomes tapped, its controller loses 2 life.
"No one cares about pollution until they can see it."-Gurras, Golgari rot farmer.
Alright, this is decidedly better than
Chronic Flooding
.  Which isn't difficult to do.  It's an interesting hoser to boot.  Screws hard with the mana base, and bleeds out your opponent if they decide to do anything with the land.  They have the choice, but given that Black seems to be getting some decent lockdown on both guild sides it could be useful to control the board a bit.  Problem with Flooding is that the punishing aspect of it was inconsequential to the point of being worthless.  This one not so much, and is harder to ignore.