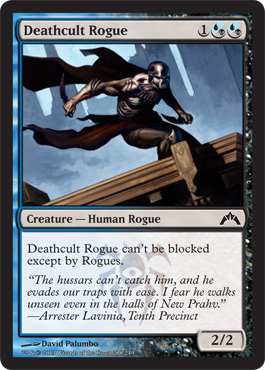 Deathcult Rogue
:ub::ub:
Creature-Human Rogue (Common)
Deathcult Rogue can't be blocked except by Rogues.
"The hussars can't catch him, and he evades our traps with ease.  I fear he walks unseen even in the halls of New Prahv."-Arrester Lavinia, Tenth Precinct
This is certainly odd.  Seems quite good in limited for the most part, and once block draft starts not even
Hussar Patrol
will stop him.  Good target for cipher it seems.