You recently posted the following poll results for kobolds in your latest
Wandering Monsters
article. Here is it again for the edification of all.




Kobolds: Dragon blood?




1 -- No dragon blood.


221


17.6%




2 -- I like the wishy-washy answer.


731


58.1%




3 -- Definitely dragon blood!


306


24.3%




Total


1258


100.0%




I'd like to take a crack at interpreting these results.
82.4% of those polled like the 'possibility' that kobolds are descended from dragons, if not definitively linked to dragons with no question in their mind what-so-ever.
You made it clear that you want to de-couple kobolds from their dragon lineage, but I think this poll disagrees with your sentiment.
You also made it seem like (in the previous
Wandering Monsters
article) there are no D&D precedents for kobolds being descended from dragons, writing
:

"The most contentious part of the description seems to have been the kobold claim to dragon descent. That's one of those things that has worked its way into my mind (and not just mine) without ever really being explicitly stated in the core rules, at least not that I could find."
Let's start with a quote from the
Dungeons & Dragons Basic Set
.
"They have scaly, rust-brown skin and no hair."
Fair enough, scaly-skin does not a dragon make. So let's follow this quote up with two more from
Advanced Dungeons & Dragons, Monstrous Compendium, Volume 1
.
"Barely clearing three feet in height, kobolds have scaly hides that range from very dark rusty brown to a rusty black."
...and...
"In a lair there will be 5-20 (5d4) bodyguards, females equal to 50% of the males, young equal to 10% of the males and 30-300 (3d10x10) eggs."
Eggs. A picture of kobolds as reptiles is beginning to form, which is eventually firmed up in
Dungeons & Dragons, 3rd Edition, Monster Manual
.
"Kobolds are short, reptilian humanoids with cowardly and sadistic tendencies."
...and...
"A kobold's scaly skin ranges from a dark rusty brown to a rusty black color."
Fast forward and couple of years and guess what? The secret is out. Let there be no doubt!
Here is a picture of a 'dragonwrought kobold' figurine, made by Wizards of the Coast and hosted by the Wizards of the Coast web site.
Here is the book, published by Wizards of the Coast, in which kobolds were featured and described as having strong game-mechanical ties to dragons.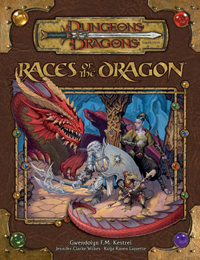 Here's some beautiful interior art of a 'winged' dragonwrought kobold from Races of the Dragon (no doubt responsible for inspiring the above-posted figurine).
Which leads me to ask...how hard did you look for connections between kobolds and dragons in D&D lore?
Also, based on these easily discovered examples of winged kobolds, I think you may be premature in leaving the 'urd' aside for now. The urd kobolds seem to be alive and well (in some form or another).
You asked what D&D players think. Well, D&D players have spoken. Please listen to them.