For quite a while I've been trying to make a 
Laboratory Maniac
deck work in a budget sense.
It's a fun deck as even when your opponent knows what you're doing, many of the times you can just play around it if you're lucky and/or predict how they could stop you.   As LabMan demands you play a very risky strategy, it's quite fun!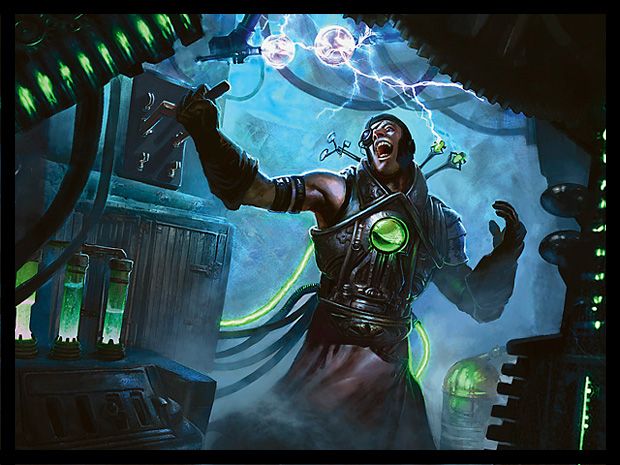 Below are two versions of the deck, one budget - and one not budget at all.
Both work quite differently, but focus on the same Labman win.
=====================================================================================================
I know there's variants out there running Doomsday, but I'd rather not go for Doomsday, there's heaps of builds around that abuse that already.

My initial idea was to use 
Paradigm Shift
, Lab Maniac and winning immediately by cycling draw, or counter/draw and by killing my graveyard with
Tormod's Crypt
.  Read below for that.
======================================================================================================
---DEC 2012----
Currently, I've been running a U/W Build focusing on
Basalt Monolith
&
Mesmeric Orb
, together with
Enlightened Tutor
.  This build is faster and far more consistent, although discard does hate this version MUCH more than Paradigm Shift.
Here's the CURRENT list, which I believe to be the better one so far.
See from page 3 onwards for this deck config and sideboard talk.
Mesmeric / Monolith Build
Biz;
4
Basalt Monolith
4
Mesmeric Orb
1
Laboratory Maniac
1
Phantasmagorian
1
Angel of Glory's Rise
1
Azami, Lady of Scrolls
1
Dread Return
4
Narcomoeba
Stuff;
4
Brainstorm
4
Ponder
2 or 3
Sensei's Divining Top
4
Enlightened Tutor
,
4
Force of Will
4
Daze
Land;
3 or 4 
Ancient Tomb
,
2
City of Traitors
.
4
Islands
,
1
Plains
,
4
Tundra
+ blue fetches to make up 19 lands total.
You'll need to fiddle with the number of fetchlands - re: Top & Brainstorm, to get the best speed out of the deck, reliant of how many Top's you wish to play with. 
So far the sideboard is open to a few different options.
One being abusing the fishing ability of E-tutor to find silver bullets like Tormod's Crypt, Engineered Explosives etc.
Another more interesting option (credit to AzureShade for this idea) is to completely replace the engine of the deck, whilst retaining E-tutors, with an Omniscience/Show and Tell style compliment of 15 cards to place an Emrakul, Griselbrand or Blightsteel Colossus into play.   
======================================================================================================
Older build (very budget) 
PARADIGM SHIFTBiz
;
4
Laboratory Maniac
4
Paradigm Shift
3
Tormod's Crypt
2
Muddle the Mixture
2
Drift of Phantasms
Draw/Etc.;   
4
Brainstorm
4
Opt
4 
Disrupt
4
Street Wraith
4 
Gitaxian Probe
2
Dispel
 or
Flusterstorm
or
Echoing Truth
.
3
Spell Pierce
3 
Impulse
Lands;
4
Lonely Sandbar
16 Islands     
Let me explain a few choices;
Once LABMAN gets in play, I need to stop it getting immediately hosed, and I need to win before my opponents' turn.
Disrupt, Dispel & Pierce as protection (along with Muddle) and the rest to cycle/draw to win. 
I've focused my counter on sorceries & instants, as this deck is capable of winning before low life becomes a problem, and instants are all I fear stopping my deck.
Muddle/Drift are there to transmute my pieces, although I found 4 of each to be too many - still working on the right number.
I have not included the normal Preordain/Ponder combination because they're sorcery speed, cos I need my draw spells to be instant for when bolt's, StP's etc. target my Labman so I can still win.
Tormods's Crypt is in there to get rid of 'yard if I need to, and can help me against some opponent strategies too.
This deck plays almost all of it's cards on your opponents' turn - meaning you always have potential to play counter, until you try to win. 
What I like - Paradigm SHift means you get to use you best spells twice.
What I not happy about - consistency and lack of "Plan B". 
I've tried a few different things, like splashing B for
Lim-dul's Vault
, but that would increase the price of this deck significantly.
Tried
Shelldock Isle
, but so far it's testing horribly.
I have tried putting in 3 Lotus Petal's, and so far they're okay without being great. 
So what d'you all think?
What changes could I try whilst keeping it mono-blue and full of instants?    
Abd what changes could I try with the mana-base?