So, this new lady is pretty cool.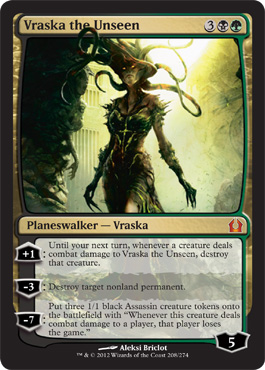 But what kind of deck can be built around her? At the moment, I have only the sketchiest of ideas, but I am hoping perhaps we can get the ball rolling on what cards may work well with her and see if we can come up with anything fun.
Now, it's very possible there are cards yet to be previewed for the new set that may have crazy synergy with her, but for now, let's work with what we've got.
This is all of the possible cards I've come up with that I think may be useful for supporting her, protecting her, and making the most of her abilities. Let me know if you think some should be added or eliminated from the list, or if you have an actual deck list in mind I'd be delighted to see if. I will likely post my own idea once a clearer picture emerges of what kind of deck she'd be most at home in.
Common
Abundant Growth
- Drawing a card and more mana versatility seems like a good idea.
Ambush Viper
- Flash and deathtouch always a good combo for interfering with ur opponents plans
Bond Beetle
- good small early monster, with possibility to buff ur game ending tokens later
Cobbled Wings
- once you have those game ending tokens, you need a delivery system...
Dead weight
- the first of several cards put here with disrupting a attacking creature that is Just strong enough to kill your planeswalker
Death Wind
- Same principle as above, just more customizable for later game when you have more mana
Fog
- hold of possible destruction of planeswalker or whatever for at least a turn
Terrifying Presence
- another card used to mess up your opponents plans and keep you in control

Unhallowed Pact
- enchant a creature that, while they were willing to sacrifice it to kill ur planeswalker, may now have 2nd thoughts
Cower in Fear
- another card to help control the battlefield
Slitherhead low cost hybrid cards always welcome, and the scavenge aint bad either
Golgari Guildgate - two colour mana production. Nuff said
Uncommon
Blood Artist
- Another card to make throwing little monsters at your planeswalker more unattractive
Barter in Blood
- help clear the board for the game ending tokens
Blood Reckoning
- Make attacking you and your planeswalker that much more unattractive
Dreg Mangler - decent mid game creature that matches the colours
Korozda Guildmage - again, matches the colours, and has some useful abilities, 1st one is good for game ending tokens
Rancor
- an old favorite, and trample could be useful for the tokens
*
Revive
- need to get that planeswalker back, or another crucial card? Done.
Wolfir Avenger
- flash and regenerate aint bad
rare
Abrupt Decay - matches the colours, removal. Nuff said
Increasing Ambition
- help get the planeswalker out and doing her thing
Killing Wave
- clear the field for the tokens
Lost in the Woods
- another layer of defense
Mutilate
- more control and death causing maybe
*
Parallel Lives
- what's worse than 3 game ending tokens? Six game ending tokens
Overgrown tomb - MANA
Revenge of the Hunted
- Trample aside, the last line about everyone blocking the target allows the other two tokens a clear attack
Some of these are kinda reaching, but I'm casting a wide net to start with.