Hi,
I have to point out the terrible job WOTC is doing when it comes to card translations.
For the last couple of sets, there has been at least 3 or 4 translation errors in cards that changes the way the card works.
For example, Arcane Melee translated into Spanish like "Instants and Sorceries
YOU 
cast, cost 2 less". This ussualy happens in bad cards, so it's not a big deal, no one uses them anyways.
But now, I see at Niv Mizzet and you see this: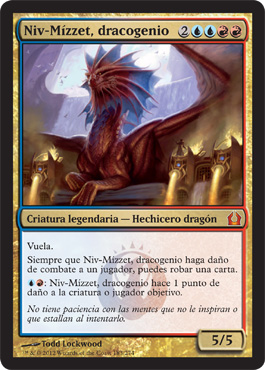 For those of you that are not familiar with Spanish, it says "whenever Niv-Mizzet deals
COMBAT 
damage, you may draw a card".
They also missed the uppercase D on "Dracogenio".
I just wonder how this stuff is able to go to print, but apparently there is no review process. At all.
I guess this has been printed and packaged already, but to be honest, this is quite a bad job by WOTC.
I hope this post helps WOTC or Hasbro to fire the monkeys working on the translation department and hire some actual human beings that are able to read a card and then re-write it on a different language.
Regards.