So in preperation of my upcoming Dark Sun campaign (quite possibly not starting for at least 12 months) and future campaigns, I took a look at the map of the Known World. For my Zombie Apcoalypse campaign I wanted to set it in the city of Giustenal. Giustenal holds a special place in my heart as I love the idea of a city sunken beneath the sands (clearly any campaign set in this city would be before it had sunk beneath the ground). But I wanted it further away from Tyr. Right about where Balic is located would be perfect. I don't like city of Balic as I feel it's ruler "Dictator Andropinis" is a Snidely Whiplash over the top villain. That's not how I like my sorcerer-kings to be. So I wanted to get rid of Balic and put Giustenal there.
Then it occurred to me, if I'm going to make that change. Why not put the Ridge Forest on this side of the Ringing Mountains instead of the other side. By putting it on this side you allow halflings to have a much bigger presence in the Known World. Then I figured if I was going to make those couple of changes, I might as well go full hog and make several more.
Below is the result of my work. A reimagining of Athas: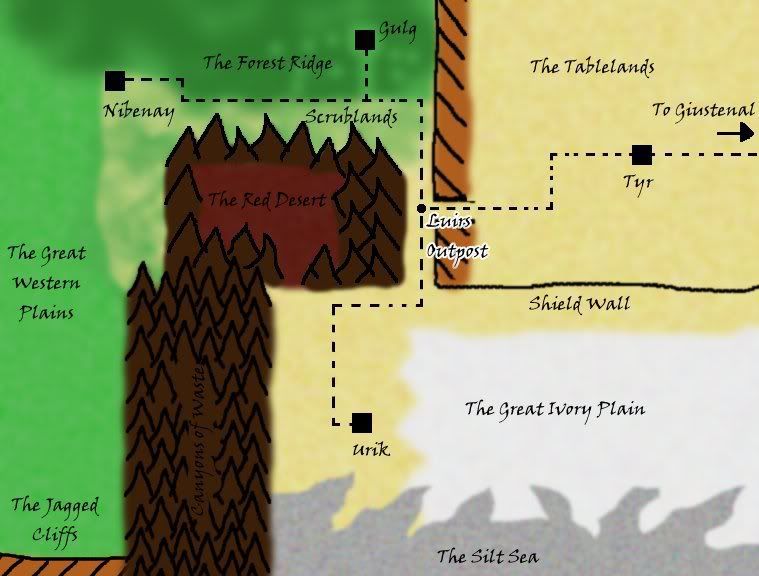 (
here is the version I'll actually use for my Dark Sun campaign
. I renamed two of the cities)
In this reimagined version of Dark Sun each city-state (except for Nibenay) has a chief export and plays a prominent role in world economics:


Urik/Allanak: Sole exporter of obsidian (obsidian is used for both weapons and as a coin across all the city-states)


Tyr: Sole exporter of iron


Giustenal/Steinal: Chief exporter of grain (Steinal would be struggling a lot more if it wasn't for Tyr. Urik produces enough grain to cover MOST of its needs, however Tyr only produces a token amount of grain. It relies quite heavily on imports being brought in from Giustenal which grants Giustenal a fair amount of power economically speaking).


Gulg: Chief exporter of wooden goods and exotic herbs that can only be found deep in the Forest Ridge.


Nibenay/Tuluk: Nibenay isn't actually a big mover or shaker in the world economy. With it bordering the verdant plains, it is more than capable of producing enough food to cover its needs, and with animals to hunt and the Grey Forest on the other side it is quite self-sufficient. However being so far away from the other city-states, most merchants don't regularly come to Nibenay. Niebnay's chief export is artistic works, however their craftsmanship and rarity drives their prices up, putting them out of reach for all but the wealthiest nobles and merchants.


What do people think?
NOTE: Although I drew the map over 3 nights, it is heavily based on ArmageddonMUD, particularly it's geographical features