Hello,
I have played D&D for many years and it has inflenced my work as an artist and pro game developer. I'm developing a new game and I want to share some images of it with you. I guess it's a play by post game. Can any of you help me with links about how I can set that up here?
I was hoping you all could help me with comments and criticism too so I can make improvements before I publish the work officially. It's a Sketchcard Interactive game: It's made up of small original artworks the size of ordinary playing cards (2.5 x 3.5 inches). The images were scanned from originals created in watercolor and Prismacolor pencils; they are not digital computer generated images.
This is a choose your adventure style children's picture book. The content is very light, child-friendly with no NSFW, no extreme violence, no mature subject matter. The charm of the game is that you, the reader-player gets taken to scenes with different outcomes based on your choices. I will link the choices to further artwork submissions on posts further down the thread. Can anyone also help me with linking to specific posts within this thread. I know how to do that in bbcode, but this doesn't seem to run on that; or does it?
Then hopefully, you can tell me what you think of it, what spelling and writing errors I've made and how I can improve the art and the game to make it more enjoyable for everyone.
May I introduce you to Kimmy?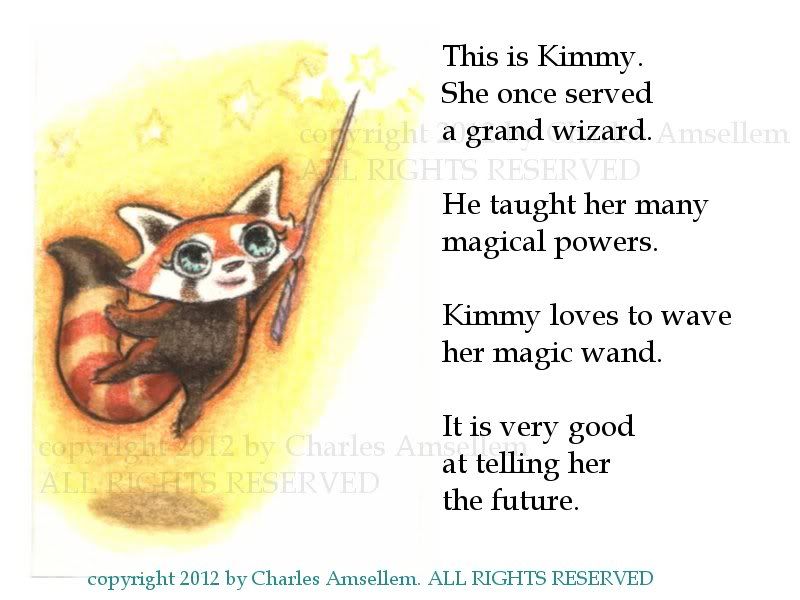 CLICK ON YOUR CHOICE BELOW!