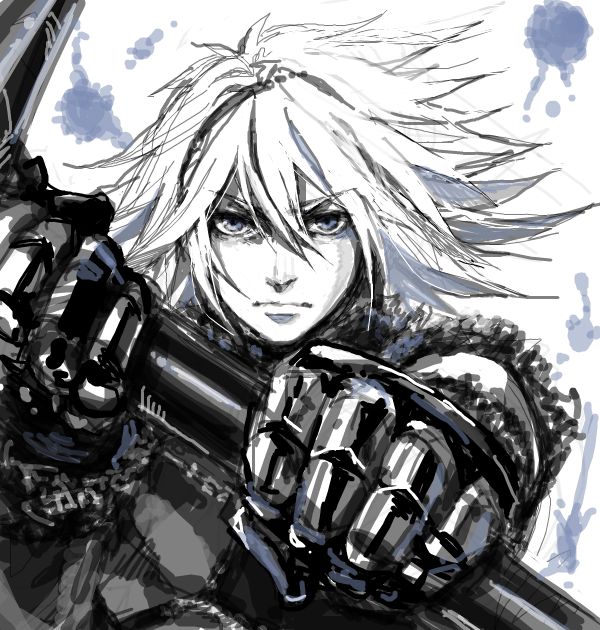 I will not fail nor falter, I shall succeed My perception is altered, I do believe Faith is so strong now nothing shall bar my way Firm conviction is no fiction This is my day
- The Shamen, Move Any Mountain
You know how the usual spiel on Barbarian optimization goes. 'Get a gouge', they say. 'Charge package', they say. 'Zoom around bashing heads', they say. But you know what? There's more to barbarians than just charging. Much, much more. In fact, I believe charging is the sucker's bet. A properly built barbarian can do some wonderful work using multiattacks, you just need to go beyond the handbook's sky blues and look hard at the full powerlist. The purpose of this build is to take a Barbarian chassis and take the multiattacking as far as it can go, while still having a very well-rounded and strong character, without even relying on charge support beyond a Horned Helm and Badge of the Berserker. For this reason, I am going to do the unthinkable: I am going to make a Barbarian who uses Wisdom as his secondary. Just to prove the point. High damage? We have this. Reliability? You betcha. Good defenses? Son, this ain't TheoryOp. Ability to shrug off status effects like they were nothing? Step right in...
NOTE 1: Because of how awful Barbarian Level 1 encounter powers are and how terrible their dailies are as a whole, this build hybridizes with Fighter to get around them and get a decentish power early on. I should note that literally every defender except maybe Paladin has considerable synergy with the Barbarian's Strikery focus. The obvious choices are Warden and Fighter, but Swordmages and Battleminds are good too. Note that, depending on how you read Rending Strike, it might work as a multiattack, making this step unnecessary. Ask your DM.
NOTE 2: Unless I explicitly say so,
do not Rage.
Raging is for losers. Not even charging barbarians want to rage, because most Rages are awful. The mechanic of wasting a turn for a crappy buff is unbelievably terrible, and whoever came up with it should be assaulted by rabid monkeys. Rages worth using in spite of costing you a turn will be clearly marked as such.
---
Variants:
Barbarian|Swordmage, by Zelink.
---
That should just about cover all the highlights. Questions? Comments? Suggestions?