This is actually a discussion thread in response to a post on MaRo's Tumblr account a few days ago.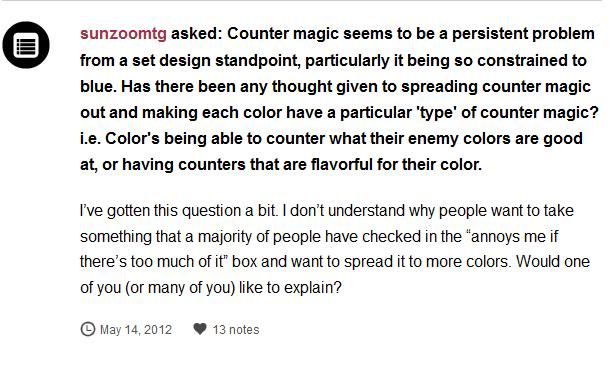 I've been trying to think of a good way to respond to this over the last day or so, but first I want to look back into Magic's past for non-blue counterspells.  While there aren't many, they do exist and are quite specific in nature (as would be expected in a counterspell outside of its primary color).
Non-Blue Counters:
Artifact Blast
Avoid Fate
Burnout
Dash Hopes
Dawn Charm
Guttural Response
Illumination
Lapse of Certainty
Mages' Contest
Mana Tithe
Molten Influence
Not of This World
Pyroblast
Rebuff the Wicked
Red Elemental Blast
Withering Boon

Now, many of these are older cards, some of them are newer, and all of them are decidedly not blue.  Now I made this list because I want to get at the heart of the way we look at counterspells.  If MaRo is to be believed (an honestly, he's got research data to back him up), players find the game less fun when they see the words "counter" and "spell" on the same card in response to whatever it is that they are doing.  I would like to point out however that while Blue's hard counters have been getting softer over the years due to player dissatisfaction, a secondary color has begun cornering the market with its situational soft counters getting a stealthy makeover and a hardening. 

You never would have thought of Green as the color of countermagic, and that's because it is supposed to philosophically oppose blue, and is the color of more traditionally uncounterable things.  Lately, however, Green has been picking up a staggering number of stealth-counters that most people generally gloss over. 

Cards like Autumn's Veil, Ranger's Guile, Sheltering Word, and Withstand Death all function as couterspells when played in response to me targeting a creature.  Why is it less fun to have my Doom Blade against your creature get caught in a Spell Snare and somehow more fun if it just fizzles because your creature suddenly gained Hexproof and a +1/+1 bonus through Ranger's Guile?  Why is a counterspell war on the stack less fun that playing Autumn's Veil and watching Blue and Black players just sit on their hands? 

Anyway, what I'm trying to get at here is that, despite R&D's efforts, counterspells are spreading to more colors.  They are just being sneaky about how they are presented. 
So yeah, discuss that however you wish.