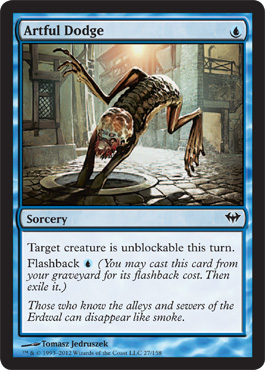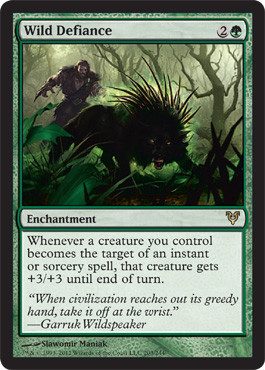 I know i will get some backlash for attemting to build a deck before AVR is even released officially but I had to try and get something going for my favorite colors.
Creatures
3x
Wingcrafter
-AVR-
3x
Wolfbitten Captive
4x
Mayor of Avabruck
4x
Invisible Stalker
1x
Snapcaster Mage
Enchantments

4x
Wild Defiance
-AVR-
Artifacts
2x
Runechanter's Pike
Sorceries and Instants
3x
Ponder
3x
Apostle's Blessing
4x
Ranger's Guile
4x
Vapor Snag
4x
Mana Leak
Land
4x
Hinterland Harbor
2x
Ghost Quarter
5x Forest
10x Island     
some problems I see with this deck just right off the back, is that it lacks Card Advantage. I've been considering adding the new
and
Fleeting Distraction
in place of snag and leak. perhaps even the fog
or the soulbond blue human that lets two creatures
Curiosity
also have been realizing that the new enchantment renders
Prey Upon
as a great removal spell. basically making it read "deal 4(+) damage to creature" for 
please help me out, maybe even join the discussion about this great new enchantment.