The Demiurge Molecule: A Sorcerer's (and Elementalist's) Handbook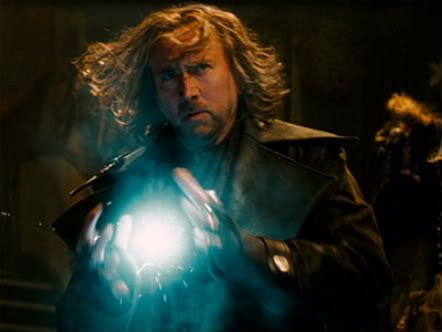 Sought through internal pyre and wind / not ready to remember where to beginFor another day is yet to come / before the night takes us homeArcane perfection / sweeps away darkness of the old waysArcane illumination / welcomes the birth of another molecule
- Dimmu Borgir 

So... yeah. I couldn't resist. I am a huge sucker for the implement classes in 4th edition, and since we just got a new class related to them in the Elementalist, I didn't want to just make an Elementalist handbook (cuz that would be too easy!), especially since the current existing Sorcerer handbook by Reg06 has been discontinued by him due to his leaving the game. This handbook will encompass the basics and beyond of the Sorcerer, while also giving a little bit of love to the new Elementalist sub-class and general Sorcerer utilities introduced in Heroes of Elemental Chaos.

The first section of this guide will cover the original Sorcerer class introduced in Player's Handbook 2. Further on down the line, a post will cover what the Elementalist, the Essentials version of the Sorcerer that was introduced in Heroes of Elemental Chaos, has to offer.

 
Part One: What Are You?
While the Warlock works with deities and figures beyond her mortal control, and the Wizard delves into book-learnin' to get his message across, you don't fuss around with anything like that. No - everything you do comes from inside your very heart, soul, and blood, born from the pure essence of dragons, the changing tides of time and space, the ever-punishing and unfeeling lightning that strikes the ground, and the stars above all those clouds. Indeed, you are the Sorcerer: arcane incarnate, all magic entombed in flesh and blood, and let nothing stand in your wake.
But that's all fluffy stuff. Pretty darn awesome, sure, but y'all are here for the meat and bones of the class's abilities.
The Sorcerer is the half-brother relative of the Warlock in being an
Arcane Striker
, but as the Warlock tends more towards the Ranger in how they operate, you're a mutation of the Wizard: the best of what you do happens in wide swaths of the battlefield, mostly with AOE attacks (Area of Effect). Your Striker features are also quite unique amongst the base handbook classes, whereby you use a secondary ability, either Strength or Dexterity, as a damage bonus to all of your arcane spells. This is very unlike the minor-action-consuming Warlock's Curse and Hunter's Quarry, or the conditionality of the Rogue, Barbarian, or Avenger, or the more limited scope of the Monk. On top of this, you also get variable, stacking resistances that you also pierce in other monsters, providing a rather unique secondary vector for dealing the damage you're expected to deal.
Popular opinion has stated that the Sorcerer really doesn't fit the bill as a Striker, since Strikers should be eliminating pogs from the board as a top priority, not just inflict mass hitpoint debuffs. In that vein, they're kind of right - you do not have the capability to be a strong single target Striker. However, you work quite well alongside other, more focused Strikers, helping to weaken the threat of multiple mobs usually much more voraciously than Controllers can, hitpoint wise, allowing enemies to be knocked down in quick succession and resources to be allocated more efficiently. You're basically the equivalent of an Arcane Monk, in this regard, and you should treat your optimization, playstyle, and strategies as such.
Just like before, you'll be seeing color-codes in the guide indicating how highly certain powers, features, and other aspects rank amongst other options. They are presented as follows:
Ratings
Gold 
(near mandatory or jaw-droppingly good)
Light Blue 
(very good, or at least worth serious consideration)
Blue 
(good, though probably not excellent)
Black 
(middle-of-the-road, but not bad)
Purple 
(mediocre, or build specific)
Red 
(terrible or otherwise not recommended)
Green 
(no rating, shows emphasis)

And as for your Striker traits:
Striker Traits



Alpha Striking: 

Until mid-Paragon, you're kind of bad at this - you only have one attack that calls off of your Minor Action, and your static modifiers won't matter enough at that point to give you a proper Alpha. However, right at 15th level is when you start getting powers that give you access to Free Action and Minor Action attacks with very easy application, so you grow into it over time.


Damage/Round (DPR): All of your damage relies on you doing one thing and one thing only: attacking. Well, you have to it, but as mentioned before, your damage feature just happens. There's no Cursing, there's no conditionality, it's just rolled into all of your Arcane attacks. Coupled with a lot of your defensive utilities and powers, it's going to be very hard to stop you from doing at least something awesome each and every round.


Debilitating Effects: Being an Arcane class, you have at least a passing expertise here, but this is in no way, shape, or form your main focus. The Dexterity-based disciplines are a little better here, with the Storm Soul favoring feats like Mark of Storm to get slides going on their favorite powers and the Wild Sorcerer gaining some sweet bonuses from teleporting, on top of the Prismatic line of dailies, but again, you're a damage dealer.


Survivability: Unlike the Warlock, you have no real interest in Constitution - even Storm Sorcerers don't need too much. You're also stuck in Cloth, which makes the very early Heroics rather scary for you in terms of defenses. It's easily fixable, of course, and Skirmisher-type Sorcerers (especially those that're Strength-based) will last longer on the field with how good Dragon Soul utilities are in keeping themselves up and the dissuading effects that Cosmic Sorcerers carry around with them.



Targeting Capacity: 

You have melee powers, you have close bursts, close blasts, AOEs, and multitarget Ranged powers - most of which are completely friendly. If you don't have something to target and damage on your turn, something is incredibly wrong with you.