Up Close and Personal
A Guide for Garrote Rogues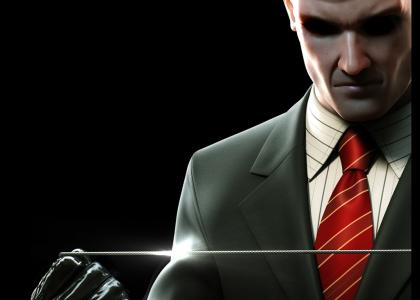 Admit it, you just want to look this good...
So, here you are.  You want to kill, but you want to do it with a little flair, a little style.  You want to look good while you do it.  Any old rogue can grab a dagger and a rapier and run around slashing and stabbing and making a mess of things.  You want something better, something more elite.  Well, it ain't easy, and often, it ain't pretty.  But in the end, you can raise your head up high, proud of what you've done.  Oh, and that tickling at the back of your neck, that feeling someone is ready to pounce on you...
Ok, so, bare with me as I make my first attempt with a handbook here.  Not my first introduction to RPG writing, as I did work with the FANCC back in the yester-years of 3rd edition, but I've always been more a fan of the unique and exciting, rather than the overpowered.  But I will do my best for you here.  It will take a while to get this all put together, and I encourage (no, request) your help in evaluations, interpretations, and raw brain power.
That basic stuff every handbook needs to get out of the way
(hint, if any of this is confusing to you, it is the same as almost any other handbook, so I'm just repeating it to be complete, but hiding it to not waste space)
Show
This Handbook will use the following system for ratings:


Red
- Garbage, or completely overshadowed by another option.  Often, actually makes you worse at your job.
Purple
- Situationally useful, but overall pretty meh.  Won't actively hurt you.
Black - OK. You could do worse than pick this.
Blue
- Good stuff. You probably want this.
Sky Blue
- You want this. Period.
Gold
- Why haven't you taken this yet? A defining choice for a build.
Green
- A few things that I can't really tell where or how they will work.  Remember that the garrote rogue is about style and being memorable.  This means, among other things, that these might be more appealing than under other builds, if you can find the room, of course.
This Handbook covers the following sources:
(don't know yet, but probably a bunch of them, I'll point out most things when I get to it, and come back to this later)
Ok, this Handbook doesn't include everything, every nuance, every tidbit!

That is correct.  In fact, I am skipping whole sections like skills that are common to most other handbooks.  Why?  Because I don't have anything new or novel to say about them.  In fact, if you see something not mentioned in the book, it is safe to assume I agree with what has been said
here
.