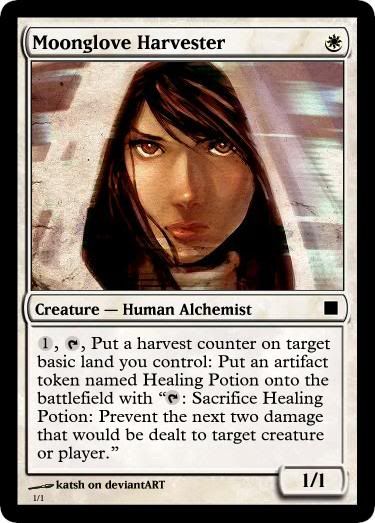 Moonglove Harvester
-
Creature - Human Alchemist
,
, Put a harvest counter on target basic land you control: Put an artifact token named Healing Potion onto the battlefield with "
: Sacrifice Healing Potion: Prevent the next two damage that would be dealt to target creature or player."
1/1
So, I don't feel like making up comp rules for harvest counters, but the concept would be something along the lines of poison counters.  Once any land reaches three or more harvest counters the controller of the land sacrifices it.  The flavor of it would be that different alchemists can take from the land, but once enough of the resources are taken, the land dies and produces nothing.  Alchemists take the herbs and other plants from the basic lands, and make their potions with them.  Harvest counters control the number of potions that can be created at any given time, or, that would be the intent.
Something.