BAMF: A Guide to Teleportation
"No, you listen! There's a sound I want you to hear! And it's..."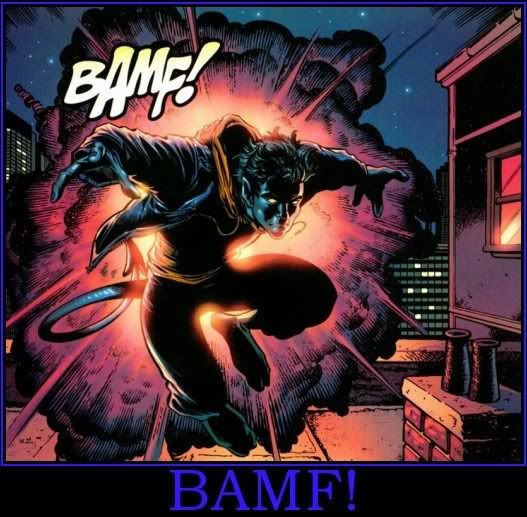 No, this isn't a guide about Neville Longbottom, this is a guide about teleporting.
Why would you want to teleport? Why wouldn't you want to teleport, it's only AWESOME.
In terms of your movement, teleporting is just worse than Fly as a movement mode, but better than other flight and everything else; bypass enemies without provoking, get on top of walls instantly, break or ignore immobilize/restrain effects, you can even change enemies mid-air if you're willing to take the fall.
In terms of teleporting enemies, you can teleport them mid-air and make them fall for extra damage, you can drop them in pools of lava or into an ally's damage zone.
With 422 powers, 72 feats, 339 items, 94 paragon paths, and 21 epic destinies, Teleporting is pretty much as well supported as the entire Fighter Class, in fact the only classes that lack Teleport powers are Barbarians and Warlords (Though you have to be an Eladrin Knight for the fighter teleport stances, and Rogues only have 1 power … )  I will NOT be rating things, point out good options? sure, but this is more of a glossary than anything else, and I'm sure this thread will be full enough of rules bickering, build examples, and stuff I missed™ that I want to avoid pointless "you need to rate Monks higher than Assassins because of Staff of Travel"
Caveat: It should be noted that while teleporting is very useful for every character to have, it is often unnecessary (ranged and/or already highly mobile PCs, ex. Wizards and Monks) or counter-productive to your primary role (defenders and/or characters with many minor actions, ex. Fighters and Warlords). It's also highly item dependant, so focusing too heavily on teleporting can be detrimental to the build.
For the time being, if you see a color, it doesn't mean rating.  It's just so it's easier to identify the usage of an effect when browsing.  At-Will, Encounter, Daily