Duels of the Planeswalkers 2012
Requested Features and Changes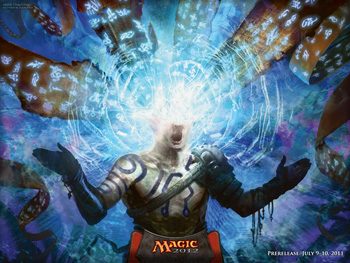 First of all I want to thank Wizards of the Coast and Stainless Games for doing a great product and also expanding the Magic franchise digitally. The strong connection of Duels 2012 with the paper 2012 Core Set shows that Duels has found its place in the Magic franchise.
Now if we look back at the first version of Duels of the Planeswalkers released in 2009, there were issues and especially bugs which bothered the game experience. The game got a lot of patches and even two whole new versions (which you had to download and then delete the old one). These new versions were better in almost any ways.
I see the same process for Duels 2012.
Duels 2012 has just been released and after playing it for a week, the forum members have found a lot of new issues and bugs which must be fixed and missing features which should be implemented  - via patches or new game versions in the future.
So this thread concentrates on stuff which are highly requested by the community to make this game even a better and much more evolved experience.
------------------------------------------------------------------
Comments by Trevor Kidd (WotC_Trevor), Community Manager, to this thread:
"Sorry guys, I thought me stickying the thread was confirmation that we were looking at this stuff :P But yes, we are definitely looking at the suggestions for new features and changes. That said, I have no information on if or when any of these will be implemented. We're only a little over a week past the game's release though, so I expect the focus is on clearing up some of the bugs/issues you've seen in the other threads. As soon as we have some more details on the near future, we'll be back in here to share with you."

 

(June 24, 2011)
"Hey all. Unfortunately we don't have anything new to share at this point. We definitely are looking at all the reports and feedback in this thread and the bug reports thread - and when we have some news to share we'll be here with that info. Thanks again for taking the time to come on here and let us know how things are going."

(September 08, 2011)
------------------------------------------------------------------
New Section: Vote!
To show the importance of these features and ideas, we want you to support them by voting the different points. With this method we can collect all the votes and see which points are the most wanted and needed. Again this will show how important these points are and increase the chance of getting them implemented into the game. The tread will be updated with "top votes" list.
Please use the following vote format instead of spelling out the feature so it is less time consuming for you - and for us, when we count all the data:
- I support (add the points you want to support).
  Example: I support A1, A2, C1, D2,....etc.
- I support all points, especially...
- I support all points EXCEPT(add the points you don't want to support)
Please vote, it won't take much time. Show your support! Thank you!
------------------------------------------------------------------
Requested Features and Changes List

[quote]

Deck Manager:
A1) Give us the ability to save multiple deck settings.
Give us two or three save file slots for each deck so we can keep different builds (Aggro Build / Lategame Build/ etc) and don't have to completey change the cards again. Also make it possible that we can choose a decksetting before matches, like we can choose our deck.
A2
)
Give us the option to turn on and off foil cards after buying the premium version of a deck.
Buyng foil versions can be nice but having no possibility of changing your deck back to normal again is left out. We as customers should have our own control over premium decks especially after paying real money for that. This feature should be easy to implement - just put replace the "turn to premium" button with"Premium On/Off" button after buying the foil version.
Not only turning foil on and off is requested but also deciding ourselves which cards in a deck should be premium versions and which not, is needed. The AI already has the ability to do it (for example: while duelling Nissa Revane, she casted one foil [C]Maelstrom Pulse[/C] and then a non-foil one. Simply add the ability to let us choose which cards should be foil - this can easily be done in the Deck Manager while zooming in a card and then pressing "X" button. Of course make this only possible after buying the premium version.
A3

)
More statistics for the decks; add general statistics.
Deck statistics:
Colour Proportions in a "X" deck.
How many times won/ lost with "X" deck
How many times played with "X" deck
How many times used "X" card
Most times won against "X"
Most times lost against "X"
etc.

General statistics:
Time spend with the game.
Deck, that is played the most.
Deck, that is played the least.
etc.
A4) Allow to zoom and scroll trough the cards on the Deck Manager
A5
)
Highlight last unlocked card/cards in the deck manager with a bordered light effect which disappears forever if the card is selected.
A6)
PC ONLY

:

Optimize mouse control and let the cards scroll via mouse.
A7) Add the "help and keyword" text from each card to the Deck Manager
. Same procedure like on the battlefield. Enlarge a card, press "LB" (in Xbox Version) and the "help and keyword text" appears.
Lobby:

B1

)

Change "ready/not ready functionality" back to the previous version.

In the current version the host must start the game manually, even if all players are ready. The previous version started the game automatically which was much more comfortable and also costed less time.

B2) Show how many seats are filled in Two headed Giant and 3 Free For All and 4 Free For All game selection.

Example:

Ranked 4vs4 Games

Game 1 1/4 (seats filled)

Game 2 3/4

Game 3 1/4

etc.

This speeds up matchmaking and is overall much more comfortable.

B3)

Give us the ability to invite a friend to a ranked Two Headed Giant game.

B4) Give us the option to play ranked Two-Headed giant games with 2 local profiles (2 players on the same machine).

I think the developers have simply forgotten to include this as it was possible in the previous Duels of the Planeswalkers.

B5) Let us choose our team when playing Two-Headed Giant. At the moment you can not change the side/team when entering a Two-Headed Giant online match.

Example:

I enter a Two-Headed Giant Lobby, then I will automatically be assigned to a team. Let us choose our team.

Of course this is not possible when two players are playing on one local machine.







General Fixes:

C1) More Music tracks in online matches.

Currently there is only one track during online games (Garruk's theme). Please add the tracks of the other Planeswalkers, too. Or do "Online Battle Music"tracks which are more like the tracks from Duels of the Planeswalkers 2009 (faster, brighter, less gloomy, more epic).

C2) Enlarge the size of the numbers of the life points, hands, libraries and creature's strenght and toughness while being in a match.

It is really hard to  recognize the numbers. They are very small and many poeple (not only me) are complaining about this. By the way I play on a 37 inch HD TV and I still can barely read the numbers.

C3

)

Add more sound effects to the game

. The sound of Duels 2012 doesn't give you that much information about the actions on the battlefield like in Duels 2009.

Sound effects for life gain and life loss are completey missing. This combined with the small numbers its hard to see all the stuff happening. For example: [C]Grazing Gladehart[/C]'s ability when triggered can be easily ignored or is hard to notice because there is no sound effect for it. Same goes with any other life gain and life loss.

Replace some sound effects with better fitting ones.

A big number of players complain about some soundeffects in Duels 2012. The gloomy, clangerous sound of casting a spell is very annoying after a while. The sound of playing a land must be replaced, too. It does not sound like a "land". It sound like closing a big stone drawer. The sound effects in Duels 2009 were better fitting.

Please overhaul the sound effects in Duels of the Planeswalkers 2012

.

It would be very nice if we could choose between different sound effects for each action (lifegain, casting a spell, etc) in the options menu. Give 3 or 4 different sounds for each action so everyone can set his favorite sound effects.

C4)

4 Player Free For All Perspective back to Duels 09

.

The current 4 FFA is confusing and many people request a change because it is uncomfortable. The hand cards have a smaller size than in normal games without any reason. The current Free for all tables (3players and 4 players) are terribly designed.

C5) Hide the opponent's deck/decks in the lobby, show the teammate's deck choice/s in 2HG and Archenemy.  Seeing the opponent's before the game causes people to pick "counter" decks.C6) Remove the possibilty to play with the same deck like your teammate in Two Headed Giant/Archenemy.

This was removed in the previous Duels game,too. Why isn't this removed from Duels 2012 right from the start? Having the same decks creates an unbalance because some decks benefit from the your teammate's deck automatically (especially "Realm of Illusion" with [C]Krovikan Mist[/C]").

C7

)

Fix blocking time problem

. At the moment if your online opponent attacks you with a lot of creatures (from 10 to any higher number) you do not have enough time to assign your blockers. This can mean that you lose the game because you didn't have enough time to block correctly. This is a pretty bad problem but it can actually be fixed easily with  a "dynamic" blocking time.

Add 3 seconds for each attacking creature at a certain amount of attacking creatures to the normal blocking time.

Example:

Oponent attacks you with 17 creatures -  at a certain amount of attacking creatures (for example 8) the blocking time will be expanded with 3 seconds per creature.

Blocking time = Normal blocking time + 9 x 3 seconds (27 seconds) = for example 57 seconds to block.

C8) Do not reset the cursor to the right every time attackers are picked from the list of my creatures.

It creates many more inputs than necessary. Moving the cursor all the way from the right to pick the first attacker, then it jumps back to the right,, then you have to move it all the way back to pick the second, and so on.

The cursor should start left and eact time you select an attacker, it should move to the next creature in line, that being the one on its

right

. Then you can move through the list in one pass, and select all your attackers with the minimal amount of inputs.

C9) Show combat animations during online battles.

Combat animations are needed to keep the summary during combats. This may be not a big problem with 2 or 3 creatures which deal damage but it is very hard to see which creatures deals how much damage to "x" creature and how much damage to the opponent with a lot of creatures.

Example: While playing Apex Predators and using [C]Overrun[/C], all your creatures will deal a lot of damage, the opponent blocks with his own creatures if he is able to. Now in the previous game, you could clearly see how much damage was dealt to the opponent and to "x" creature/s with combat animations. In Duels2012 this step is confusing and unclear.

Solution:

Allow combat animations in online battles like in the previous game, keep the same speed of the combat animation of the single player or make it even faster (combat animation in Duels2012 is faster than in the previous Duels). Combat phases and damage dealing will be clearly lad out this way.

C10) Include a proper End Phase to the game.

In paper Magic, if a player says "I end my turn", he can't cast spelly anymore this turn. In Duels of the Planeswalkers you can cast your spells, even if you have pressed the button to end your turn.






Deck Repairs:

D1

)

Fix Land ratios in "Dragon's Roar" and "Guardians of the Wood"

.

At the moment, these dual colored decks suffer from a terrible land count.

Dragon's Roar:

This deck has only a few swamps (7 if you add all cards to the deck) but these lands are really needed for the black cards in the deck which include the most removals like [C]Disfigure[/C] and [C]Assassinate[/C] and some important creatures like [C]Giant Scorpion[/C]. Most of the time you don't get a single swamp or 1 or 2 in the lategame (where all your early black creatures and removals become almost useless). In the first Expansion this will even become worse with [C]Malfegor[/C] because you need 2 swamps to cast him (which you do not have very often in turn 6). The easiest and best solution  is adding 3 or 4  land-fetch cards like [C]Terramorphic Expanse[/C],[C]Evolving Wilds[/C] or [C]Armillary Sphere[/C] to the deck and remove bad cards like [C]Goblin Piker[/C].

With these cards the deck will be more reliable and more fun. Playing a dual color decl shouldn't be punished but at the moment Dragon's Roar feels that way.

Guardians of the Wood:

Same problem like Dragon's Roar but not that bad. The deck has two creatures which help you getting swamps but still it has its problems. Adding cards like [C]Wanderer's Twig[/C] or [C]Rampant Growth[/C] would also make this deck much more reliable and the chances to cast important removal cards like [C]Maelstrom Pulse[/C] become better.

D2) Some decks do not have an answer to some card types. This is a big problem, because it ruins the overall deck balance.

For example: Apex Predators is not able to handle artifacts and enchantments like [C]Argentum Armor[/C] and [C]Lifelink[/C]. This is not balanced, especially because Green is the colour that has a big number of artifcact and enchantment removal.

Solution examples:

Remove 2x[C]Beast Hunt[/C] from the deck and add two[C]Naturalize[/C]

or

Remove 2x[C]Craw Wurm[/C] from the deck and add two[C]Indrik Stomphowler[/C] or 2x[C]Wickerbough Elder[/C].

Every deck should have atleast one answer to every card type. This is very important to keep the game balanced and fun.

D3

)

Fix Koth's "Strenght of Stone" deck.

The deck is the weakest in the game. Main reason: It has no "theme" and very low synergy.

See this thread for more infoD4) Fix Garruk's "Apex Predators" deck.

This deck suffers from its very low speed. It has only 2  1-Mana cost creatures which do not really help the deck to get faster. There are only 2 Mana Ramp cards in the deck (2x[C]Nature's Lore[/C]). This is not enough to compete with the fast aggro decks in the game like "Wielding Steel" or "Blood Hunger"

Fixing examples:

Remove 2x[C]Beast Hunt[/C], add another 2 [C]Nature's Lore[/C]

Add effective 1 and 2 mana creatures so this deck has better chances in the early game: Add creatures like [C]Skinshifter[/C], [C]Copperhorn Scout[/C], [C]Arbor Elf[/C], [C]Mold Adder[/C]. Also this deck has no enchantment and artifact removal (see point above).

Other card fixes/improvements: Remove 2 [C]Beast Hunt[/C], add 2[C]Hunter's Insight[/C]. Remove 2x [C]Hunters' Feast[/C], add 2 [C]Momentous Fall[/C]

See the whole discussion with more fixing ideas hereD5) Fix Sarkhan's "Dragon's Roar" deck.

Currently this deck is a weird mixture of cheap Goblins, very weak removal ([C]Assassinate[/C], [C]Disfigure[/C], [C]Burst Lightning[/C], etc.) and expensive dragons. Basically the deck's strategy is to build up a defense of goblins and remove opponen's creatures with removal. After this you unleash dragons to win the game. By the way you can reduce the mana costs of dragons with 2 [C]Dragonspeaker Shaman[/C] and 2 [C]Ruby Medallion[/C]. The overall card quality is much lower than in decks like "Wielding Steel" or "Blood Hunger". Reasons are: Removal is too weak, dragons are too weak and too expensive. Besides this deck suffers from a terrible land count, you barely get 1 [C]Swamp[/C] in a game (see also point D1)

Fixing examples:

Remove 2x [C]Assassinate[/C], add 2x[C]Terminate[/C]. Remove 2 [C]Volcanic Dragon[/C]s, add 2 more [C]Voracious Dragon[/C]s or 2 [C]Predator Dragon[/C]s.

See the whole discussion with more fixing ideas here




[quote]

Features:


E1) Bring back custom options for custom matches. In Duels 2009 you could set the number of cards which you start with and the number of lifepoints. This isn't possible anymore in Duels2012 altough many people enjoyed playing with different rules. There is no answer for the lack of this feature. It can't be very hard to bring it back in a future patch. Make it possible that we can use custom settings in both - non-ranked online matches and local matches even against the AI.
Custom Options should include:
- Number of Lifepoints and starting Hands
- Ability to turn off and on timers, set the lenght of the timer

E2) Add manual Mana-tapping. See this thread for more information:
Click


E3) Add a random deck option - for all kind of matches: ranked online, local etc. Instead of choosing one of the 10 decks you take a deck with a "?" symbol on it. Then the game will randomly choose a deck for you.

E4) Give us the option to play as the Archenemy. This would not only expand the game mode but it also would be a lot of more fun to feel the power of an Archenemy. Make it available for online MP (ranked and non ranked) and for local matches. The Archenemies didn't have different decks in the campaign than the 10 normal decks (besides the boss decks) so I don't see any problems there. This feature would be great and many people always wanted to be the Archenemy.

E5)

Add Set Information to the cards to the "info and help text" of each card.


For example: While having [C]Thrun, the last Troll[/C] on the field, I press "LB" (Xbox360 Version) to see the help and info text. Add the block and set information to all cards - in this case Scars of Mirrodin Block, Mirrodin Besieged Set + original set symbol.
Duels 2012 wants people to get to know paper Magic aswell, so add these information to the cards, too.

E6) Add Text Chat for PC



E7)

Add a "pointer mechanism" to Two-Headed Giant and Archenemy gameptypes.

With this mechanism you can point out any cards on the board, in your or your teammate's hand. Your teammate/s will see these cards framed in a different color.




Future Content/DLC

F1)

Give us additional Gametables as DLC like in the previous version of the game

.

Many people got bored of the current M12 table compared to the 5 different tables in Duels09. Ship new tables as DLC with costs.

Table styles could be:

- Mana coulor based tables (like in Duels09)

- Set based tables for example: Scars of Mirrodin style, Innistrad Style, Zendilar style, M11 style, Shards of Alara style

F2) Give us additional Persona Picture packs as DLC with costs or add new personas per Expansion for each system (PC/Playstation/Xbox)).

A person picture pack should include at least 10 different personas and these downloadable personas MUST be able to be seen by the opponent who does not have this pack (during online matches).

Persona picture packs should have a theme like a Dragon Picture pack, or an Angel Picture pack, Demon picture pack etc.

Xbox 360 only:

Add downloadable Premium themes, Gamer pictures and Avatar clothes.

Gamer pictures and Premium themes were already available for Duels 2009 so doing new ones for Duels 2012 would be nice.

Ideas for Gamer picture packs:

Planeswalker Picture pack 1 (160 MS points): Includes the 12 Planeswalkers from the game.

Creature Picture Pack (160MS points): Includes 12 creatures from each colour + 2 artifact creatures

For example:

[C]Ancient Hellkite[/C], [C]Inferno Titan[/C], [C]Gaea's Revenge[/C], [C]Ezuri, Renegade Leader[/C], [C]Baneslayer Angel[/C], [C]Kor Duelist[/C], [C]Phantasmal Bear[/C], [C]Lord of the Unreal[/C], [C]Child of Night[/C], [C]Grave Titan[/C], [C]Sphinx Sovereign[/C], [C]Wurmcoil Engine[/C]

Avatar Clothes and Props:

Examples:

Jace Beleren Costume (400 MS Points), Gideon Jura Costume (400MS points), etc.

Props: Baneslayer Angel (240 MS points), Shivan Dragon (240 MS points), etc.

Playstation 3 only:

Add downloadable dynamic Themes and Account pictures





------------------------------------------------------------------------------------------


Suggesttions in green are now/will be soon in the game!


I hope that a Wizards member or a Stainless Games member will read this list and hopefully participate by commenting and taking these ideas right into the game. Also please take note that this list is a summary of the requested features and changes given by the forum members - also please consider their original posts below. Thank you!
If you have any ideas and suggestions of what should be improved/implemented etc., please tell me and I will add it to the list.


Note: This is NOT a bug list thread. Post bugs to the existing bug thread.




Thanks to the community and forum members for supporting and giving so many good suggestions!!!
-------------------------------------------

last updated:  September 17, 2011