Blades of Cursed Midnight: A Hexblade's Guide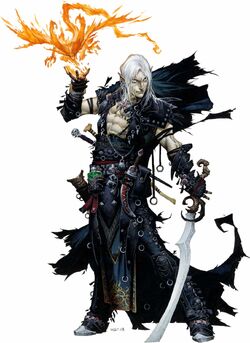 Hell hath no limits, nor is circumscribed in one self-place; for where we are is hell, and where hell is, there must we ever be.
- Mephistopheles, 
The Tragical History of the Life and Death of Doctor Faustus
Greetings. We all know why you're here, so let's not pretend that any of you here are ignorant about what you're about to get into. The path of the Hexblade may seem easy to tread at first, and we are derided for it by others who believe we sell our souls for fleeting power. But it is this power that can one day change the world for the better. Of course, you'll have to survive that long first, but then again, that's why you're here, I suppose.
Selling Points: Why play a Hexblade? 
You're Flexible: You can manifest a weapon of pure arcane magic to fight foes up close, and you can strike down foes far away with ranged implement attacks. You also possess great basic attacks out of the gate, in case you have leaders who can capitalize on that. Basically, if you want to attack a foe, you shouldn't have a problem hurting them.

You have Minions: You have the ability to summon entities related to your pact, from tiny imps to do your errands for you, to Treants which will pulverize your foes into nothingness.

You're Tougher than you appear: Although Hexblades seem as fragile as any striker as first, they have a lot of tricks to boost their longevity, including summons which can soak damage, temporary hit points, status effects, and mobility, among other things. If you play things right, you should be staying upright for a while.
How to Look at Options
The following rating system will be used for this handbook:

Red - Bad. Really Bad. So bad, not even Asmodeus would approach it with a 10-foot pole.
Purple - Limited. Shines in very limited circumstances. Worthless most of the time.
Black - Acceptable. Choosing this won't actively harm your Hexblade.
Blue - Good. These picks are a good idea in general. Not the best, but still solid.
Sky Blue - Optimal. You don't need these, but you'd better have a good reason for passing one up.
Gold - Mandatory. It would be difficult to play even a minimally optimized Hexblade without this.


Source Material Covered and its Abbreviations

AP - Arcane Power
AV - Adventurer's Vault
AV 2 - Adventurer's Vault 2
D### - Dragon Magazine, issue ###
DP - Divine Power
DSCS - Dark Sun Campaign Setting
FRPG - Forgotten Realms Player's Guide
HoS - Heroes of Shadow
HotEC - Heroes of the Elemental Chaos
HotF - Heroes of the Feywild
HotFK - Heroes of the Forgotten Kingdoms
HotFL - Heroes of the Fallen Lands
MME - Mordenkainen's Magnificent Emporium
MotP - Manual of the Planes
MP - Martial Power
MP 2 - Martial Power 2
PHB - Player's Handbook
PHB 2 - Player's Handbook 2
PHB 3 - Player's Handbook 3
PHR:D - Player's Handbook Races: Dragonborn
PHR:T - Player's Handbook Races: Tieflings
PHH 1 - Player's Handbook Heroes: Series 1
PHH 2 - Player's Handbook Heroes: Series 2

Special Thanks To:
- lordduskblade, for pioneering the formatting used in this guide
- Malkonnen, for writing the original Warlock Guide
- Everyone posting in this thread. You're awesome.