[size="6"]Becoming an Organizer/Adding a Venue[/size] 

The process of becoming a new Tournament Organizer and adding a venue to your list of approved locations has been stream lined into one convenient feature.  The directions below will walk you through the process.  Step 2 is where if differentiates between new Tournament Organizers (with or without DCI #'s) and those that are already registered as Tournament Organizers.

1) Start by going to this webpage: www.wizards.com/Company/WPN/Join.aspx


Unfortunately, this page is labeled "Sign Up as a Wizards Event Organizer" so it's not quite intuitive if you are just looking to add a venue to your list of approved locations.


2) You'll need to enter your date of birth and hit "Continue."




3) The next question is asking if you are already a Tournament Organizer.  


New T.O.s should select the "I am not yet registered as a Wizards event organizer" option.


Returning T.O.s wishing to add a new venue to their list of Venues should select the second option.



4) Fill out the following form with your personal information (your venue information comes next).


If you have a WPN, DCI, or RPGA # make sure that you enter in your DCI # so that they do not assign you a new one.


Again, if you do not have a WPN, DCI, or RPGA# don't worry it will assign one to you once you have finished.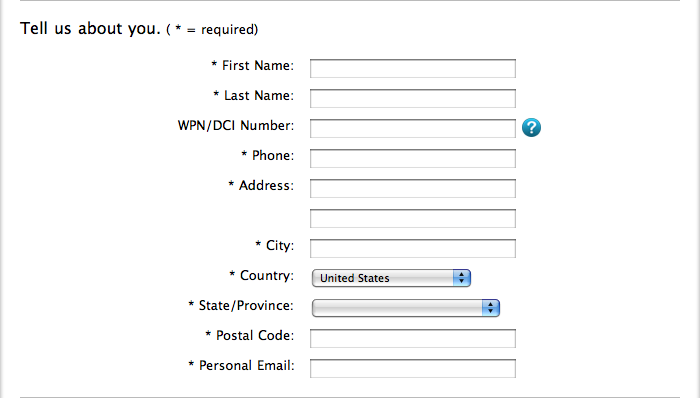 5) Fill out the venue information form.  This is the information that will appear on the online store locator ~ ww2.wizards.com/StoreAndEventLocator/


This location must be a public venue (retail store, school/college, library, church, restaurant, etc.); your living room will not do.


Make sure all the information is current and correct.  Even something as little as one number off in an address or phone number can cause long delays in the approval process.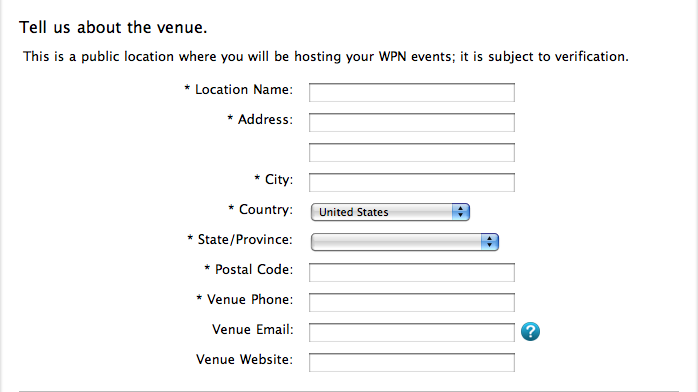 6) Check the boxes for the product your store carries.


If you are signing up for a non-store locations, skip this section.


This information is used to help players find stores that sell the product they are looking for.



7) Next it asks you if a Distributor referred you.


Selecting "Yes" will allow you to give credit to your stores favorite distributor.


If you leave it selecting "No" you can skip this step and proceed onward.




8) The last few things are fairly quick and should be relatively painless


Read the User Agreement and check the box.  When you go to check the box a window will pop up with the user agreement in it and "Accept" and "Don't Accept" buttons at the bottom.  Click "Accept" and move on toward the finishline.


WPN User Agreement
This agreement is accurate as of April 2011:
Last Modified: March 3, 2011
Wizards of the Coast LLC ("Wizards") is dedicated to ensuring fair and friendly gaming experiences to hobby game enthusiasts around the world at organized play events. In order to have your events included in our Event Locator, receive tournament kits and other assistance from Wizards, have participants receive credit for their participation, and to participate in certain Wizards Play Network programs as an Organizer, You must agree to be bound by and comply with this Event Organizer Agreement (the "Agreement").
By submitting any event to Wizards for scheduling, You acknowledge that You have read, understand and agree to be bound by this Agreement, which incorporates by reference the Organizer Code of Conduct ("Code of Conduct") located atwww.wizards.com/wpn/events/Article.aspx?..., Wizards' Privacy Statement located at staging.wizards.com/Company/About.aspx?x..., Wizards' Website Terms of Use located atstaging.wizards.com/Company/About.aspx?x..., and any supplemental terms appearing on the Wizards website, located at www.wizards.com ("Site"). Certain other policies may apply to specific WPN Programs you participate in, or software tools you use. In the event of a conflict between any of the aforementioned policies and this Agreement, the terms of this Agreement shall control.
Wizards reserves the right to amend this Agreement at any time and will post the amended Agreement here. The changes will become effective upon posting. You are responsible for checking this page regularly for changes. Your continued participation in the WPN by scheduling Events after any amendments to this Agreement are posted indicates your acceptance of such amendments.
1. Definitions
"Event" means an organized play event at which a Game is played and/or a Game tournament is held that is scheduled and/or reported with Wizards through Reporter.
"Event Results" mean data indicating outcomes of Game tournament play at Events by participant, and such other Event-outcome data as requested by Wizards and/or Hasbro in their sole discretion.
"Game" means a game published by Wizards or Hasbro, including without limitation, the Magic: The Gathering trading card game and the Dungeons & Dragons roleplaying game.
"Hasbro" means Hasbro, Inc. and all of its affiliates.
"Locator" is the Site application that consumers use to search for Events and stores that sell Games, located at ww2.wizards.com/StoreAndEventLocator/.
"Organizer" means an individual who organizes, administrates, and conducts Events.
"Public Location" means an all-ages, publicly accessible physical location that is clean, safe, and well-lit.
"Reporter" means Wizards' proprietary software application through which Events are submitted to Wizards for scheduling and Event Results are submitted to Wizards.
"Rules" means any Game rules, tournament rules, or other Event rules that Wizards may identify from time to time in its sole discretion as applicable to Events in order for such Events to be scheduled.
"Schedule" means to be listed on the Site and included in the Event Locator.
"WPN Location" means a permanent physical commercial establishment with a current business license that purchases Games directly from Wizards, Hasbro or one of their authorized distributors, and sells sealed Magic: The Gathering or Dungeons and Dragons directly to consumers.
"WPN Program" means a program sponsored by Wizards that provides exclusive materials, prizes and support to exclusive to WPN Locations, typically through kits mailed to the WPN Locations. WPN Programs currently available are described here, and are subject to change at any time in Wizards' sole discretion.
2. Event Administration.
Organizer will:
2.1 Conduct Events only at a WPN Location or a Public Location, and will conduct Events sanctioned under a WPN Program only if sponsored by a WPN Location.
2.2 Ensure that Events comply with all of Wizards' guidelines, codes of conduct, rules, regulations, policies, directives, decisions and all procedures set forth by Wizards from time to time in its discretion.
2.3 Conduct Events in accordance with the current applicable Game rules and tournament floor rules.
2.4 Accept full responsibility for the scheduling, marketing, operation, and management of Events, including without limitation all costs associated therewith.
2.5 Ensure that all people and companies Organizer employs, utilizes or otherwise recruits to assist with conducting Events (collectively "Staff") comply with Organizer's obligations under this Agreement wherever applicable, and accept full responsibility for the actions or inactions of Staff in connection with Events and this Agreement.
2.6 Use Event-related promotional materials provided by Wizards and/ or Hasbro, if any, solely in connection with Events and in compliance with any and all guidelines or instructions provided by Wizards and/or Hasbro.
2.7 Use Wizards and/or Hasbro-owned intellectual property in accordance with the policies set forth in Wizards' fan site kits, located at www.wizards.com/Company/Press.aspx.
2.8 Take all reasonable measures to prevent and eliminate illegal or otherwise inappropriate conduct at Events.
2.9 Comply with all applicable laws, statutes, rules and regulations, including, where applicable, securing all necessary permits, approvals and licenses from third parties necessary to conduct Events.
2.10 Utilize Reporter or such other applications as directed by Wizards to Schedule Events, and comply with all policies and agreements associated with the download and/or usage of such applications.
3. Registration
3.1 You represent and warrant that you are at least eighteen years old.
3.2 Complete the registration form at www.wizards.com/WPN/Join.aspx. You will be notified by Wizards indicating your acceptance. Wizards reserves the right to accept or reject applicants for any reason in its sole discretion.
3.3 Wizards reserves the right to terminate or decline your participation as an Organizer for any reason in its sole discretion.
3.4 Wizards reserves the right to terminate or modify any aspect of its organized play program, WPN Programs, Locator, Games, Rules, or any policies or procedures applicable to Events, at any time in its sole discretion.
4. Scheduling
4.1 You will complete Scheduling of any proposed Event according to the program guidelines set forth in the applicable event solicitation. You represent and warrant that all information you provide is true, complete, and accurate.
4.2 Wizards reserves the right to reject any Event and not Schedule it for any reason in its sole discretion.
4.3 You will at all times comply with all requirements applicable to the Scheduled Event. Different program rules may apply depending on the type of Event, including without limitation, product type, date restrictions, and play format.
4.4 Within 8 days following the Event, the Event Results must be provided to Wizards through the Reporter.
4.6 You will report all significant incidents that violate the Code of Conduct, terms and conditions or tournament or floor rules to Wizards' Game Support team at www.wizards.com/customerservice.
5. Financial Responsibilities
5.1 You are responsible for all costs incurred in conjunction with the Event.
5.2 Wizards may, from time to time and in its sole discretion, provide you with certain materials for use solely in conjunction with administration of Events, such as promotional posters, or premium items you may use as prizes or for giveaways ("Event Kits"). You agree you will not sell Event Kits nor any contents thereof. You will comply with all policies related to the use of Event Kits that Wizards may institute from time to time in its sole discretion.
6. Compliance
6.1 Wizards may terminate its Scheduling of an Event at any time if you fail to comply with this Agreement or for any other reason in Wizards' sole discretion.
6.2 If you violate this Agreement or otherwise engage in conduct that fails to meet the standards of professionalism, safety, and sportsmanship required by Wizards, Wizards may in its sole discretion suspend or expel you from its organized play programs and WPN Programs, and/or decline to Schedule future Events proposed by you.
6.3 If pursuant to this Section 6 you are suspended or expelled from Wizards' organized play programs and WPN Programs, you acknowledge and agree that Wizards may communicate the fact and nature of such suspension or expulsion to third parties, including through the Site.
7. Promotion and Marketing
7.1 You are solely responsible for promoting and marketing Events.
7.2 Wizards and Hasbro will use good faith efforts to include Scheduled Events in their Site calendars and Event Locator tools, provided that Wizards and Hasbro will have no liability to You for any failure to include such Events on the Site or in the Event Locator.
7.3 You acknowledge and agree that neither Wizards, nor Hasbro, nor any of their affiliates, are sponsors of Events. You will take no action to imply or indicate any such sponsorship.
8. Privacy and Publicity
8.1 You grant Wizards the right to use Your name, likeness, voice, image, and location information on any written, photographic, audio, or videotaped materials and on the Site relating to Events for advertising, promotional, commercial, educational, or other purposes, and You hereby waive any right to additional consideration or compensation with respect to any such use.
8.2 You understand and agree that by signing up and Scheduling Events your name, phone number, email address, physical address and WPN Location (if applicable) may be shared with third parties and through the Site for the purposes of allowing consumers to contact you for more information about your Events, for advertising and Event Kit distribution to support your Events, to coordinate several Events in a given region, and to enable your participatione in rewards programs.
9. Indemnification
You indemnify and agrees to defend and hold harmless Wizards, Hasbro, and their officers, directors, employees, and agents (collectively, the "Indemnitees") for and against any and all claims, liabilities, demands, obligations, damages, costs of litigation, attorney's fees or other expenses related to or arising out of the organization, promotion or administration of any Event.
10. Representations and Warranties; Limitation of Liability
10.1 You represent and warrant to Wizards that the Events will be carried out in a proper, competent and professional manner.
10.2 You represent and warrant to Wizards that:
A. You will fully and expeditiously perform and discharge each of its obligations under or pursuant to this Agreement;
B. You shall comply with all applicable laws and regulations governing the Events, including, where applicable, securing all necessary permits, approvals and licenses from third parties necessary to conduct the Event;
C. Notwithstanding anything in this agreement you will be, and will remain, responsible for all obligations and liabilities associated with the Events;
D. You will at all times remain responsible for the financial viability of, and risk management in respect of, the Event;
10.3 You understand and agree that Wizards makes no warranties, express or implied, to you, Staff, sponsors, participants, or any other person or entity related in any way to the Events. Under no circumstances shall you act or hold yourself out as the agent of Wizards or Hasbro.
10.4 You waive, release, and discharge Indemnitees from any and all claims, causes of action, damages, and losses arising out of your breach or failure to abide by any part of this Agreement.
10.5 NEITHER WIZARDS, NOR ITS PARENT OR AFFILIATES, LICENSORS OR RELATED ENTITIES SHALL BE LIABLE IN ANY WAY FOR LOSS OR DAMAGE OF ANY KIND RESULTING FROM YOUR PARTICIPATION AS AN EVENT ORGANIZER OR ANY OTHER WIZARDS PROGRAM. IN NO EVENT WILL WIZARDS BE LIABLE TO YOU FOR ANY INDIRECT, INCIDENTAL, SPECIAL, EXEMPLARY OR CONSEQUENTIAL DAMAGES. WIZARDS' LIABILITY TO YOU OR ANY THIRD PARTIES IS LIMITED TO US$25.00.
11. Miscellaneous
11.1 Nothing in this agreement shall operate or be deemed to create an agency relationship, partnership, joint venture or association of any kind between the parties or shall render them liable for the debts or liabilities incurred by the other party.
11.2 This Agreement represents the entire agreement between both parties with respect to Events.
11.3 If any provision of this Agreement shall be unlawful, void or for any reason unenforceable, then that provision shall be deemed severable from this Agreement and shall not affect the validity and enforceability of any remaining provisions.
11.4 This Agreement is personal to you, and you may not assign it.
11.5 This Agreement shall be considered as entered into in the State of Washington, USA and shall be governed by and construed in accordance with the laws of the State of Washington, USA. You unconditionally submit in connection with the agreement to the jurisdiction of the Courts of that State.


This second box signs you up for periodic e-mails.  I recommend checking it so that you receive their e-mails.  They won't flood your inbox and they are usually quite helpful.


Finally, fill out the random security code and click "Submit"


 
9) You will then be greeted by this awesome eyeball telling you that you have completed your portion of getting a new venue approved and/or signing up to become a Tournament Organizer.  You will now have to wait for Wizards to do there part (this process can take 2-3 business days).


They will not always send you a confirmation e-mail, but will often just approve the venue; so keep checking your "event sanctioning" menu on your homepage.  webapp.wizards.com/personal.aspx




Credit:  I lifted some stuff from Billbo's old Add Venue thread.