(( Cross-Posted in the Races forum. ))
It's been two weeks since I put up Bulbasaur, and the responses were positive enough that I decided to move ahead with Charmander. I think that I finally got it about right, but of course, it's all still open for input. As before, design decisions and commentary will be explained via spoiler block.
CHARMANDER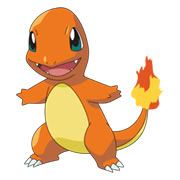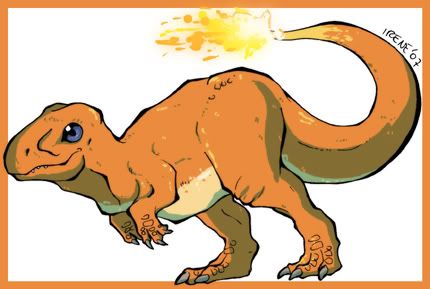 RACIAL TRAITS
Average Height: 3'3" - 3'9"
Average Weight: 30 - 50 lb.
Ability Scores: +2 Strength, +2 Dexterity
Size: Small
Speed: 6 Squares
Vision: Normal
Languages: Common, Pokemon
Skill Bonuses: +2 Endurance, +2 Intimidate
Ember: The flame at the tip of your tail, your ember, can burn at three different strengths: brightened, dimmed, and extinguished. While brightened, it sheds bright light out to a radius of 5 squares. While dimmed, it sheds dim light out to a radius of 2 squares. While extinguished, it sheds no light at all.
You can change your ember's strength as a minor action, but when you die, it is immediately extinguished.
Fire-Type: You have resist fire equal to 5 + one-half of your level.
Pokemon: You are a magical beast.
Blaze: You have the
blaze
power.
Blaze (Charmander Racial Power)
You take advantage of your ember to deliver a painful burn with your next strike.
Encounter
Minor Action - Personal
Effect: If you hit with the next attack that you make before the end of your turn, then the attack deals an additional 2D6 fire damage. This damage increases to 3D6 at 11th level and then to 4D6 at 21st level.
Special: If you are bloodied, then you gain a +2 power bonus to the next attack that you make before the end of your turn.
Design Decisions
My original intent was to determine Pokemon racial ability score bonuses by looking at their stats in actual Pokemon games, but I ran into a problem here just as I did with Bulbasaur. Frankly, even though their highest stats in the games are Special Attack and Speed, I just don't feel like DEX and CHA would have fit very well for D&D, and it would also make the race much too similar to Halflings. In the end, I just thought STR and DEX fit better, and I'm not really sure that I can totally explain it other than that I think they'd fit in better with STR-using classes than they would with CHA-using classes. I think the image of a Charmander in heavy armor as a fighter or night is totally awesome (also sort of funny because you end up with a dragon-like creature that is the knight going to save the maiden from some humans), but robes would just catch on fire, and having a tail that's always on fire isn't very conducive to sneaking around in the dark.

Ember was actually pretty difficult to get somewhere that I was satisfied with. I kept wanting to do crazy, cool stuff like have the flame unable to be brightened when bloodied and automatically dim when they're bloodied and extinguish when they're dying but just dim if they're unconscious but not dying but if they spend a healing surge they can brighten it as a free action but ARGH! In the end, it was just too complicated for what it supposed to be a very simple idea: Your tail can function as a torch or candle. I also felt like it was only right to actually include the option that it be extinguished, even though in the anime, that meant the creature would die, just because it would be a complete shame if they had such a massive penalty to sneak.

Finally, Blaze was pretty hard to get right too. I felt tempted to do an attack power, but those are so overdone nowadays, so instead I decided to adapt an idea from an image I got in my head of a Charmander Archer. The archer would swipe his tail on the tip of the arrow before releasing it, resulting in the addition of fire damage to the arrow. I thought that was cool, so I ran with it, and even though it wouldn't work quite the same for caster classes, it doesn't take too much reflavoring to make it work.
In the world of D&D, Bulbasaur, like all other Pokemon, are native to the natural world, having been created by the original Pokemon God, Arceus, many eons ago. They dwell in the mountains and, unlike Bulbasaur, do build large, stone, permanent structures, castles that don't look much different than those build by humanoid races, even considering their small size. Unfortunately, due to their appearance, many humanoid races associate them with dragons, leading to much tension based solely on fear. In fact, Charmander bear no relation to dragons, and their appearance is merely an example of convergent evolution.
Culturally speaking, Charmander actually share much with Dragonborn and with the Dwarves with whom they share their home. Honor, valor, and strength are paramount, and fire is the cornerstone of society. Other than a few land desputes every now and again, the greatest allies to the Charmander are probably Dwarves, likely because Dwarves learned long ago that the Charmander are fundementally benevolent creatures who make valuable allies.
Most Charmander worship Ho-Oh and its angels, the legendary beasts Entei, Raikou, and Suicune. They represent legendary strength and the cycles of destruction and rebirth. Charmander Clerics and Paladins are actually quite common, and the king of a Charmander nation is usually a powerful Charizard Paladin, but most Charmander find the Martial classes much more attractive, particularly Fighter, Ranger, and Rogue.
HEROIC TIER FEATS:
CHARMANDER'S BLAZE
Prerequisite: Charmander,
blaze
racial power
Benefit: When you use your
blaze
racial power, the next attack that you make before the end of your turn can score a critical hit on a natural roll of 19 or 20.
CHARMANDER'S EMBER
Prerequisite: Charmander, ember racial feature
Benefit: Once per encounter, when you change your ember's strength to brightened, one adjacent enemy of your choice grants combat advantage to the next attack that you make against it before the end of your turn.
CHARMANDER'S SMOKESCREEN
Prerequisite: Charmander
Benefit: You gain concealment against opportunity attacks.