Into The Breach: A Warlord Handbook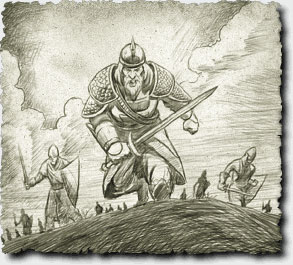 With his army scattered in disarray, he fled up through the Eye of Tharsis and into the very bowels of the earth. I can hardly blame him. The sight of Alric hacking his way through the enemy, Balmung flashing in his hand, caused many of our own men to stand aside in awe. –Unnamed Narrator, Myth 2: Soulblighter
Once more unto the breach, dear friends, once more;
Or close the wall up with our English dead.
In peace there's nothing so becomes a man
As modest stillness and humility:
But when the blast of war blows in our ears,
Then imitate the action of the tiger;
Stiffen the sinews, summon up the blood,
Disguise fair nature with hard-favour'd rage;
Then lend the eye a terrible aspect;
[...] Straining upon the start. The game's afoot:
Follow your spirit, and upon this charge
Cry 'God for Harry, England, and Saint George!'
-Henry V, Henry V
In the middle of a furious battle, as arrows fly by and swords clash, a man stands alone, his eyes closed while his mind races. After a moment, he opens his eyes, and instructs his aide: "Tell the Fifth Batallion it is time to strike. The Scourge of Andural will be wiped off the face of the earth today". Then, drawing his through brief, efficient orders.


In another place, another man battles an orc invasion, him and his companions the only hope of the small mining town of Menir's Reach. Laughing, he engages another orc. A quick sidestep to the right, a feint to the left, and the deed is done: the orc steps backwards, clutching his throat as his life pours out of him. Grinning, he leads his friends forward, as he proclaims: "See! I told you they wouldn't be a challenge! What kills one orc will kill a hundred!". Inspired by his confidence and bravado, his allies charge forward, determined to obtain victory at any cost.


---


Welcome, everyone, to my humble attempt at creating an up-to-date Warlord Handbook. While the legendary Lordduskblade and SCRuLooSe have both done excellent, spectacular handbooks before me, they are somewhat out-of-date, and I believe that a new, fresher source of information is needed. Without further ado, let us proceed to the Handbook itself.


Rating Scheme:
Throughout the guide, I'll use several different colors to denote the worth of different options. Each color means:
Red: This isn't just a suboptimal option, it's an actively bad one, and taking it when ANYTHING else is available is gimping your character. Avoid this like the plague.
Purple: Either suboptimal or very situational options. Taking this won't kill you, but there's always better options out there.
Black: Solid, dependable choices that you won't regret taking. Nothing spectacular, but you'll never hurt yourself badly, if at all if you take black options.
Blue: Very strong options, the kind that should always be considered. These have a lot going for them: not a single one of them will disappoint you, I guarantee that.
Sky Blue: Spectacular options, some of the best you can get. Taking a single one of these might significantly boost you character, and they will impress when the time comes to put them to the test.
Gold: What? Something above Sky Blue? How? Basically, gold options aren't just good, or amazing: they're mandatory. NOT taking this is nothing short of a severe gimp to the character, something you MUST get sooner or later. These are rare. Maybe one or two feats/powers/items/flying monkeys will be gold for each build, but whenever one of these pops up, TAKE IT.

Version History: 0.1: Created the Handbook, finished the mechanics overview and conundrums, finished the PHB and MP powers up to Heroic Tier.
0.2: Added the Paragon Tier of powers from PHB and MP, fixed massive formating errors.
0.3: Major power overhaul and general corrections. Added another good quote to the start of the guide.
0.7: All races added, most Dragon articles added.

Thanks to: Lordduskblade, for all his amazing work and setting the groundwork for so many handbooks that came afterwards.
SCRuLooSe, for creating the first Warlord's Hanbook ever.
Dictuum Mortum, who created the original color scheme that this handbook uses in a reworked form.
Logistics of War: Class Overview, Ability Scores, and Races

Baseline Mechanics:

HP, Surges, and Proficiency:

HP: Merely standard. Not bad, but not spectacular either.

Healing Surges: Again, standard for Strikers and Leaders. Nothing to go crazy about, but not as bad as a Wizard's.

Weapon Proficiencies: Much better. No military ranged options for free is a pity, but it's not like you're going to focus on those either.


Features:

Combat Leader: Bonuses to initiative are always nice. Nice, but not vital or spectacular.

Inspiring Word: Distinctly average as far as the Leader series goes…at first.

Commanding Presence: Ahh, the meat of the class, the thing that defines it. The Warlord is unique in that, besides the two original V shaped build paths, it has two paths that play with traditional class building, one of them rarely requiring a secondary stat to be competitive, while the other one wants TWO secondary stats at a high level. The presences are:

Tactical Presence: Hailed by many as the most powerful Leader ever since the beginning of the edition, the Tactical Warlord has since seen that domination challenged by other Leaders, but most still think it retains the crown. Battlefield repositioning, damage in some cases, the all-important Attack Bonus in most, and best of all, free actions to tip the action economy in the party's favor, the Tactical Warlord can do it all. Except healing. Leave that to other Leaders…

Inspiring Presence: …Such as this one. Originally, Inspiring Warlord were looked at with disdain, the younger, weaker, dumber little brother of the Tactical Warlord who had no niche it filled particularly well that someone else didn't do better. Ever since Martial Power entered the mix, however, this build has done nothing but rise to heaven, becoming more and more competitive as time goes by. While still not quite at the level of the Tactical Warlord, who has also increased in power (though at a slower rate), the Inspiring Warlord is now a fearsome character in battle.

Bravura Presence: Power at a price. That's the motto of the Bravura Warlord, who specializes in taking gambles and testing his luck to come ahead. Due to how its powers work, the Bravura Warlord is easily the least stat-dependent presence of all, many time eschewing Charisma, it's theoretical secondary, for a high Constitution. Therefore, it is particularly suited to those who wish to try unique trick builds, such as Polearm Gamblers, or those who like to take risks in exchange for a big payoff.

Resourceful Presence: Now here's an odd build. The Resourceful Warlord is, as far as I know, the only build that is intentionally made with the idea of splitting points between two secondary stats at the same time. In practice, it's usually better to pick one of Intelligence or Charisma and focus on powers of that variety, and enjoy the advantages of another build thanks to its choice PP, the Infernal Strategist. Overall, the flexibility of the Resourceful Presence is excellent: it pushes it to a very strong blue, almost a Sky Blue rating in my opinion.


Ability Scores

Strength: If you don't hit, you simply are not getting your effects off and are consequently nothing more than a semi-squishy target for your enemies. Strength is easily the most important stat for a warlord, as it influences your hit chance, something you want to keep as high as possible for as long as you can.

Constitution: Solid, but it doesn't add anything special to the class. Warlords are melee Leaders, and thus want some of this to hang tough in battle, but this is not a priority. The exception to this is Bravura Warlords: Since you're going to take extra hits, more HP and surges is key.
Dexterity:

The dump stat of this class. Besides some (admittedly nice) feat options, Dex adds nothing to your build that you couldn't get elsewhere. If you want some, pick up just enough to get whatever feats you want –nothing more.



Intelligence:

The secondary stat for Tactical Warlords and most Resourceful Warlords, as several of the latter build's best options are Int based. For all but a handful of builds for either of those, a 16 Int post-racial is a bare minimum. Bravura and Inspiring Warlords have no need for this besides a couple feats, however.



Wisdom:

The other potential dump stat. I consider it slightly better than Dex because it is the lynchpin of some weapon-based builds, but this doesn't mean it's not a very good dump either.



Charisma:

The secondary ability of Inspiring Warlords and Bravura Warlords who choose to use their Charisma Riders, Charisma even has some excellent feats for Tactical and Resourceful Warlords. Additionally, it boosts many skills and your Will defense, two things that always come in handy.



Races
Races, PHB:

Dragonborn: Perhaps the definitive Bravura Warlords, and some damn fine Inspiring Warlords too. With amazing feat support, doubly matching stats, and good racial features, you can't ask for much more than this.


Dwarf: +2 Con is nice, but +2 Wis ain't that good. The racial features are good, and they don't make half bad Bravura Warlords, but not having matching stats hurts Dorfs in my opinion.


Eladrin:
The +2 Dex is almost worthless, but oh my, this race has so much and so awesome feat and PP support. Many of the best Taclord options, such as the Spiral Tactician PP, are only available to Eladrins, and while not having Str as a bonus stat sucks, the rest is so good I've no choice but recommend it.
Elf: Two dump stats, many strikerish features, and not particularly spectacular feat support. Elven Accurracy is golden, of course, and that alone pushes it out of the red, but this is still not a spectacular choice.

Half-Elf: +2 to Con ain't too shabby, and +2 to Cha is excellent for Bravura and Inspiring Warlords, of course, but the real bonus of this race is in its feats. In particular, I'm talking about Versatile Master, which lets you trade one of your at-will powers for that of another class. I don't think the power of this needs to be discussed in detail, considering it's the selling point of Paragon Multiclassing. A Warlord with something like Righteous Brand is a very scary thing, indeed.
Halfling: +2 Cha is nice, of course, the feat support is mostly there, and Second Chance is amazing, but +2 Dex does nothing for you and being Small hurts your weapon selection, something that closes several options to you. Good, but not amazing as I see it.

Human: Only one stat, but you get to place it where you want it to be, and an extra feat and a +1 bonus to defenses are quality stuff. The real bonus here is the extra at-will, though. Warlords crave options more than almost any other class, and an extra at-will increases your options tenfold. That what feat support there is (WotC seems to believe Action Surge is enough to compensate for not getting a single usable offensive feat for non-arcane characters ever) is quite good only sweetens the deal.

Tiefling: The Resourceful Warlord par excellence, Tieflings get terrific feat support, good PP options, and of course, double secondary stat bonuses. I think those who preceded me said it best: "When you've got a square hole and no squares pegs left, a triangle peg fits best". The only reason they don't get a Sky Blue rating is that they lack a way to compensate for not having a Str boost, but other than that, extremely good.

Races, PBHII:
Deva: Think of an Elf with a stat that actually helps some warlord builds and better feat support. That's the Deva, in a nutshell.
Gnome: Gnomes are kinda funny. They really, really try to be a viable alternative to halflings, but they have less support, a less useful stat allocation, and a racial powerset that doesn't mesh with the stats.
Goliath: Goliaths are mostly intended to be Big Stupid Fighters, but they actually make for pretty good Warlords. Their feats are generic but solid, their racial power is excellent, and they have an all-important Strength bonus. If they had good Warlord-specific feats, they might even hit Sky Blue.
Half-Orc: Half orcs don't really have anything that makes them amazing warlords. They have a bonus to Strength, which helps, but that's about it.
Longtooth Shifter: Passable, due to a strength bonus and a kickass racial power.
Razorclaw Shifter: Terrible, due to lacking the stuff mentioned above.

Races, Forgotten Realms Player's Guide:
Drow: You get a boost to Charisma, but Dexterity is useless for you and Llothtouched, the power that defines this race, doesn't really help Warlords.
Genasi: Very few races are as well suited to be Taclords or Intelligent Resourceful Warlords as the Genasi. With ideal stat boosts and good feats and powers (especially the Stormsoul, Watersoul, and Windsoul's), they're very well suited for the role.

Races, Eberron Player's Guide:
Changeling: The ex-Doppelgangers have a pretty good setup for the rare breed that is the balanced Resourceful Warlord, and their racial power, while fluffy, is amazing for a Warlord who can use his head. Overall, while not stellar at anything, this is a very solid race.
Kalashtar: They have a bonus to Charisma, but Dex is a dumpstat and their feat support isn't exactly stellar. Solid, but nothing spectacular, really.
Warforged: An excellent choice for a Warlord, as they get a bonus to their main stat, and their feat support is second to none. Not having ideal stats or a feat that SCREAMS "This is a warlord feat that you WILL take!" is the only thing that keeps them from Sky Blue, but they're really good regardless.