April Phool's event! Extended downtime this week, R&D Challenge 4/18, prize structure updates.
Extended Downtime on March 26
There will be an extended downtime this Wednesday, March 26, for Magic Online. The system will come down at 10:00 PM PDT (5:00 UTC) on Tuesday evening, March 25 (store activity, trades, and events will cease leading up to the system going offline).
Please plan ahead!
April Phools!
We have some fun events lined up for you around that iconoclastic semi-holiday known as April Fool's Day. But no foolery here, just 8-booster Phantom Sealed fun.
Beginning Monday, March 31, at 12:30 PM PDT and continuing until downtime April 2, you'll find April Phool's Phantom Sealed events in eight format varieties to play every hour on the half-hour (so, 12:30, 1:30, 2:30, etc.). These are not your everyday formats:
| | |
| --- | --- |
| Heavy Metal | The Erik Lauer Experience |
| The Weatherlight Saga | Cycling Time! |
| Core Crazy! | Tribes |
| Sliver Farm | Woooo Berg! |
Start Earning QPs Toward Force of Will
The MOCS April Season begins on Wednesday, March 26, and you won't want to miss out on this season's promo card: Force of Will! You only need 15 QPs to earn one, and there are lots of events in which to win QPs during the month of April, including a new Flashback Draft each week. For a complete list of events, visit the Magic Online Events Calendar.
Challenge R&D in Theros Block Constructed
Have you mastered the first two sets of Theros Block? Itching to show your Magic prowess? Flex your heroic muscles? Here's your chance!
On Friday, April 18, take on members of Magic Online's R&D team and prove your savvy with Theros and Born of the Gods.
The R&D team will include:
Ian Duke
Ben Hayes
David Humpherys
Tom LaPille
Ken Nagle
Sam Stoddard
Erik Lauer
Tim Aten
Gerry Thompson
Adam Prosak
R&D Challenge: Theros Block Constructed
START TIMES
Friday, April 18, starting at 12:00 PM PDT.
LOCATION
Scheduled Events room.
ENTRY OPTIONS

Option 1
10 Event Tickets

PRODUCT
A Theros Block Constructed deck, 60 or more cards from the Theros and/or Born of the Gods sets.
SIZE
16-128 players.
PLAY STYLE
Swiss.
FORMAT
Theros Block Constructed.
DURATION
Five rounds, each round up to 50 minutes, Swiss pairings.
PRIZES

Match Wins
Prizes
QPs
5
12 Theros booster packs
6 Born of the Gods booster packs
3
4
6 Theros booster packs
3 Born of the Gods booster packs
1
3
4 Theros booster packs
1 Born of the Gods booster pack
0

Note: Magic R&D members are not eligible to win prizes, but their matches will affect standings. Any prizes R&D members would have won will be distributed evenly among the players with 15 match points and within 5 business days of the event's end.
Magic Online Championship This Weekend & Competitors Pt. 3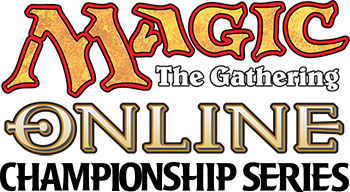 The Magic Online Championship is this weekend, beginning March 28, and running through March 30. You can get a front-row seat for the tournament by tuning into the Magic Twitch.tv channel. Check the Viewer Information for a list of the competitors and to find out when events will be airing.
Then, visit DailyMTG.com's series of competitor profiles to get to know who's who in that list of competitors. This week, Part 3 of the series introduces us to four more competitors.
Competitors profiled this week:
Prize Structure Updates
The following prize structures updates will be made during the March 26 downtime:
4-booster Theros Block Sealed


1st Place: 3 Theros packs, 3 Born of the Gods packs, and 1 QP

Theros Block Sealed Daily


4 Match Wins: 8 Theros packs, 4 Born of the Gods packs, and 3 QPs

All Constructed 5-3-2-2 (Standard, Modern, Momir Basic, Pauper, Theros Block, Legacy)


1st Place: 3 Theros packs, 2 Born of the Gods packs, and 2 QPs
Extended Downtime and Release Notes for March 26, 2014
The system will go into "No Pay"

Tuesday evening, March 25, at 7:00 PM PDT

Store and trades will be shut off at approximately 9:45 AM PDT
The system will be down from 10:00 PM, March 25, until 12:00 PM PDT, March 26
March Season MOCS and MOPR promo card will be granted during the downtime.
Current Client and Wide Beta Client Notes:
General
Fixed: Players with untradable cards that resulted from the unexpected downtime should find those cards tradable once more.
Blog Followers 1
Comments 1