Background: I don't have a lot of time to DM. I want to run a series of adventures based in a desert region similar to the Sonoran desert, featuring rough scrub, mesas, and canyons.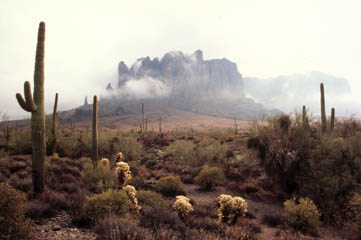 I've hit upon a few things that I think would spice up a desert setting, to keep it from being "mummy in the pyramid" predictable.
I know I want to feature the following monster groups. Drow, a Vampire, several types of undead, and a medusa.
Nestled between 2 mountain ranges the vast expanse of the Arrawa Desert stretches out as far as the eye can see. Large and small cacti store water between the sudden angry storms that sometimes douse the area. Nestled near the base of one of the mountain ranges is the large town of Goldfast and the once lost dwarven hold now named Golden Deep. Explorers found gold in the small streams near the town, and during the exploration uncovered the entrance to a lost dwarven city. Since then dwarves have resettled the hold, sharing the work and the bounty with the humans outside. Trade with the outside world through the southern pass allows food and other commodities in, while dwarven and human good travel out. But deep in the desert ancient ruins still stand unexplored. Great treasures wait for those who are brave enough to come claim them.
That's really about all I have at this point. So, let's brain storm some ideas and who knows, maybe you'll get something you can use in your campaign!